5 Questions With Interim OTA Program Director, Dr. Anjali Parti: Occupational Therapy,The Best Kept Secret In Healthcare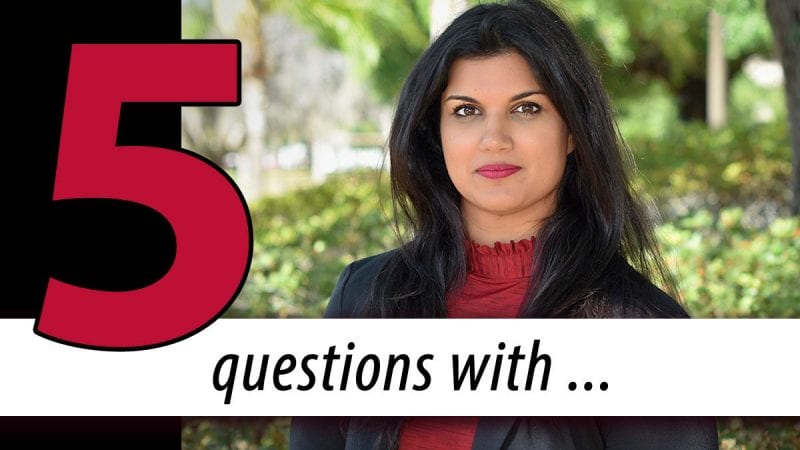 The Occupational Therapy profession is celebrating its centennial year. In honor of this milestone, Occupational Therapy Assistant (OTA) Interim Program Director Dr. Anjali Parti has provided answers to many frequently asked questions about the profession. For Parti, one of the many goals of the Polk State OTA Program is to educate the broader community on occupational therapy, its goals, and its benefits for patients in both clinical and non-clinical settings.
The Polk State Occupational Therapy Assistant (OTA) Program began in January of 1999 at the Winter Haven Campus, and the first cohort graduated in December of 2000. The limited-admission, 70-credit hour, Associate in Science degree program provides students with opportunities to develop interpersonal and clinical skills in the field. Take a moment to learn more about this innovative and exciting profession.
Will you provide us with an overview of the importance of occupational therapy?
Occupational Therapy (OT) is one of the best-kept secrets of healthcare, providing so many benefits to patients. As noted by the American Occupational Therapy Association, "Occupational therapy practitioners enable people of all ages to live life to its fullest by helping them promote health, and prevent—or live better with—injury, illness, or disability." The principles of OT are founded in psychiatry, and the profession emerged during the Moral Treatment Movement. OT seeks to view the patient's disability in a holistic light.
What careers exist for occupational therapists?
Registered occupational therapists (OTRs) and certified occupational therapy assistants (COTAs) can work in settings treating a variety of clients, from infants to geriatric patients. Settings include hospitals, skilled nursing facilities, assisted-living facilities, out-patient clinics, home care settings, and school systems. Career choices can be wide-ranging and are dependent on the student's interest. For example, a therapist with a love of the arts may pursue a career in art therapy, while a sports enthusiast could use OT skills in sports therapy. For those who enjoy working with people, this may lead to a career in social work or community health. Occupational therapy opens a variety of doors in a vast number of career settings.
Do students select a particular OT focus area, or do they have a general focus? Can COTAs select the age groups they prefer to work with?
Polk State's Occupational Therapy Assistant Program produces generalists, graduating individuals with skills to treat a variety of patients. For those with a particular interest, this can be further pursued through specialized certifications that promote particular areas of expertise.
What experiences do students have through the OTA Program at Polk State? Are there advanced degrees that OTA students may pursue?
The Polk State Occupational Therapy Assistant Program leads to an Associate of Science degree. It provides the necessary tools for credentialing so the individual can be employed as an occupational therapy assistant (COTA) in a variety of professional settings. After earning the associate's degree, an individual can choose to move forward towards a bachelor's or master's degree, or even a pursue a doctorate.
More information about Polk State's specific curriculum and admission requirements can be found on the College website (polk.edu) by searching "Occupational Therapy Program."
What do you find inspiring about the profession? What advice can you share with perspective and current students?
I began my career as a pediatric occupational therapist at one of the nation's top Children's Hospitals in Cincinnati. Starting out in this setting, I learned a lot. I have also worked in rehabilitation management, and have treated geriatric patients in assisted living facilities, skilled nursing facilities, and home care settings. I have also worked with a great team at Orlando Regional Medical Center, treating acute care, trauma, and burn patients. This work has opened my eyes to the dedication and service my colleagues provide for the community.
I found my passion for academics in 2013. I love being an occupational therapy educator and passing along what I have seen to students. It is a valuable and special way to give back to a profession I care so deeply about.
For those considering this profession, I would encourage them to research the career, seek opportunities for observation hours, watch videos, and read articles on the health-related goals and benefits of occupational therapy. If the profession is a match, you won't be able to stop yourself from talking about its importance for rehabilitation and quality of life.
Also, never lose passion for what you do; stay creative with an out-of-the-box approach to interventions, and always take the time to do your best to achieve the goals of clients.