Polk State-Trained Childcare Center Director Prepares Children for Kindergarten — and Life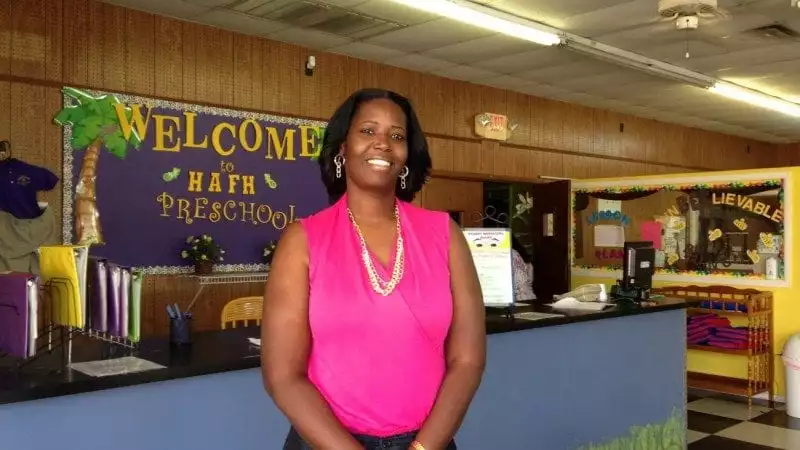 For Latasha Ealey, the best moments in life are hearing 3-year-olds say "please," "thank you," and "yes, ma'am."
Because when the Polk State-trained childcare center director hears those little phrases, she knows she's made a big difference.
"When you instill manners and respect in these children, you're setting them up for success," said Ealey, who owns Home Away from Home Preschool Learning Center in Winter Haven. "That's my job — to nurture these children so that they can become the best that they can possibly be."
Ever since she was a child herself, Ealey has wanted to work with kids. She grew up loving to play school and house. In the late 1990s, she was working for a mattress company in Lake Wales, but left that job, and took a "significant pay cut," to work for a childcare center.
"Every morning, no matter what kind of morning they have had or I have had, I walk through the door and the kids' faces light up. When I see them, and they're happy to see me, or when I'm able to comfort them and get them smiling again, that's when I'm reminded that this is my calling. This is where I'm supposed to be," she said.
After a couple years of working for someone else, Ealey decided to strike out on her own. A single mother, Ealey began by watching her own kids and several others in her home. As demand for her services grew, so did her business. In 2007, after having completed courses at Polk State to earn her childcare center director credential, she opened her first commercial location on First Street in Winter Haven. Home Away from Home is now located in a former motorcycle shop located on 6th Street Northwest.
The building's showroom is now a space for Pack 'N Plays, miniature tables and chairs, and cubbies. The windows are covered with finger-painted artwork and the ABC's. The shop's office has been converted into a bathroom, complete with toddler-sized sinks and toilets. A back room, maybe once a storage area, is now a quiet classroom for VPK and after-school students.
These brightly colored rooms are where Ealey's 112 charges, ranging in age from six weeks to 12 years, learn the skills they will need for kindergarten and beyond. But the kids aren't the only ones who learn here. Many times, Ealey, a mother of three and grandmother of two, finds herself giving impromptu parenting lessons to frustrated moms and dads.
"The most recent one was a parent whose son is now 3. She was having a hard time getting him to do what she told him to do. He was challenging her — which is what kids do at this age," Ealey said.
Ealey shared with the desperate mom one of her secrets to kid compliance.
"You give the children choices. You might say, 'you can take a bath or a shower, you decide.' Either way, the child is getting clean, and they feel like they are in control. But little do they know, they're doing what mom wanted them to do all along," Ealey said.
The day after Ealey shared her advice, the mom arrived at Home Away from Home — and she was beaming.
"She was like, 'It worked! It worked!" Ealey said. "From there, the mom has to be consistent. She can't be wishy-washy. She has to always remember she's the adult. She's the provider. She's in charge."
Her ability to wear many professional hats — not just teacher to children and coach to parents, but also manager, bookkeeper, maintenance worker, and many more — is a skill Ealey says she learned at Polk State College. She always had the heart for childcare, but she needed the professional preparation.
"In order to meet Polk State's standards, I had to learn to become more professional. I had to learn how to draw the line between being a parent or a friend and being a professional," Ealey said. "When you are professional, and when you are able to communicate to your staff what you expect, it's like I'm here even when I'm not here."
Speaking of her staff, Ealey said all 12 of her employees have either attended or are currently attending Polk State College.
"I only understand Polk State. When I see a Polk State transcript, I'm reassured that a potential employee has what I'm looking for and what I need," she said.
"I believe strongly that it takes a village to raise a child. My staff and I, we are that village, and we're going to do the best we can by these kids every day."
Polk State College's Early Childhood Education and Management program offers an Associate in Science degree, as well as training that leads to a variety of state certifications. For more information, visit polk.edu/earlychildhood.
Polk State College's history is rich with stories of alumni who have gone on to make impacts, whether in the classrooms and laboratories of prestigious universities, the rough and tumble of commerce, or the halls of political power. Over the years, thousands of Polk State graduates have leveraged their education and experiences at Polk to transform their own lives and the lives of others. This transformation is the essence of what it means to "be Polk." Whether in big ways or small ways, Polk State alumni embrace the challenge of living lives that matter. News@polk regularly profiles these alumni. Their story is the story of Polk. They are The Pride of Polk.