25 Years Later, A Phone Call Reunites a Surgeon and a Patient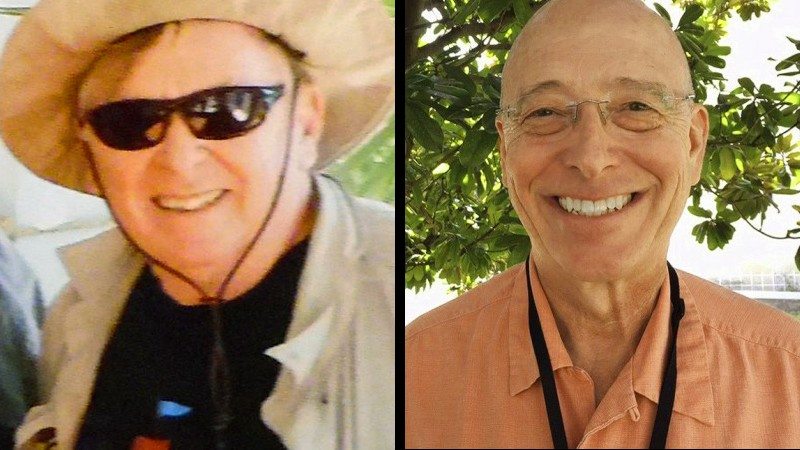 Two days before Veterans Day, Polk State Biology Professor Dr. Tony Rizzo's office phone rang.
He was about to head into class. He didn't have much time to spare. But he picked it up anyway.
On the other end of the line was Jim Patton, calling to thank him for saving his life.
"As a surgeon, you never expect to hear from patients again. After this many years, for someone to look me up, I was humbled and honored that he went to that much trouble," Rizzo said.
In June 1990, Patton, now 72 and living in Las Vegas, was a civilian working for the U.S. Air Force at Lajes Air Force Base in the Azores, a group of islands off the coast of Portugal. On June 8 of that year, Patton fell gravely ill and required emergency surgery for diverticulitis, a condition that affects the large intestine and causes inflammation, infection and extreme pain.
Rizzo, who came to work at Polk State after retiring as director of the National Center for Medical Intelligence, was stationed at Lajes at the same time, working as the surgeon and chief of hospital services. When Patton needed surgery, it was Rizzo who came to his aid.
Patton explained in an email to News@Polk that Rizzo removed part of his colon and reattached what remained to his small intestine.
"I was full of infection," Patton wrote.
Rizzo concurred, explaining that Patton was "full of blood, puss and stool" on the operating table.
"He would have been dead within hours," Rizzo said.
Instead, Patton went on to make a full recovery. Aside from having a surgery to remove a melanoma tumor 10 years ago, he has been healthy ever since.
In the decades that have passed, Patton has often thought about Rizzo.
"I remember his extreme knowledge of medicine. He was no-nonsense, very serious about his job. He showed great concern for his patients. He was highly respected at Lajes Airfield," Patton wrote.
Recently, Patton searched for Rizzo on the Internet. When he came across a 2013 News@Polk article about Rizzo, Patton was excited to have finally located the man he remembered as "the super surgeon."
"I'm 72 years old and seeing many friends and acquaintances with medical issues. A friend of my daughter's just had a complete hysterectomy, which is probably cancerous. My next-door neighbor and wife are going to the doctor at least once a week. Knock on wood, I am doing OK. I had a flashback to the Azores, on how I almost died 25 years ago. If Dr. Rizzo had not performed this innovative surgery, I would not be writing this. Basically, I just wanted to let him know how grateful I was," Patton wrote in his email.
When he called Rizzo on Monday, Patton had a simple aim. He wanted Rizzo to know that he's "breathing and thankful."
For Rizzo's part, while he was happy to hear from Patton, he is quick to eschew any personal attention for having helped him.
"My job was to help people," Rizzo said. "My assignment in the Azores was to be the surgeon and the chief of hospital services. I was literally just doing my job."
Rizzo would go on to reach the rank of Air Force colonel and earn the National Intelligence Distinguished Service Medal, Intelligence Star, and two Defense Superior Service Medals. He retired to Winter Haven in 2013 and currently teaches Human Anatomy and Physiology, Special Topics in Biology, and Basic Principles of Disease at Polk State Winter Haven.