Free Food
SMOKIN JIMS (BBQ) – Mon.
TACOS – Tue.
CHINA ONE – Wed.
PELICANS SNOBALL – Wed.
PIZZA – Wed. Night and Thurs.
Live Entertainment & Activities
COMEDY SHOWCASE – Mon.
PLAYING CARD GUESSING GAME – Mon.
CLUB RUSH – Mon. and Tue.
CARNIVAL GAMES –Tue. and Thu.
PHOTO BOOTH – Tues.- Thu.
INTERACTIVE INFLATABLES – Thur.
HENNA ARTIST – Wed.
AIR BRUSH TATTOO – Wed. and Thur.
CARICATURE ARTIST – Wed. and Thur.
MAGICIAN – Wed.
GIANT DICE GAME – Wed.
CARD GAMES – Wed.
Music
LIVE DJ – Mon.
LIVE BAND – Mon.

Prizes & Giveaways
Shirts & Gift Cards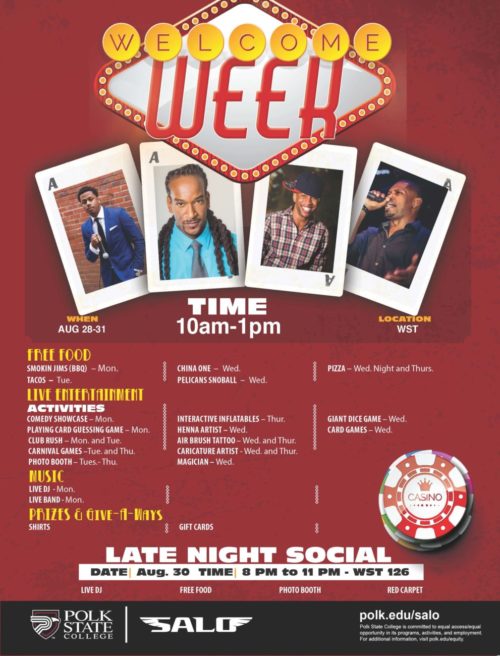 Share