Winter Haven Quilters Prepare for 18th Show at Polk State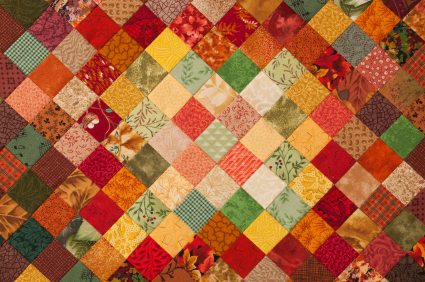 For 25 years, even as the world transformed into a global marketplace where products are bought and sold with mere clicks, members of the Winter Haven Quilters have remained true to their craft.
They gather twice a month in a church fellowship hall. Some still painstakingly stitch by hand. Others use sewing machines, but even that technology seems almost quaint in light of the apps it has inspired. Weeks, years even, pass before a single quilt is completed.
The quilters do this, they say, because in this fast-paced, Internet-connected life, the art of handmade quilting is more precious than ever.
Beginning Oct. 1, as they have for 18 years, the Winter Haven Quilters will display their work at the Polk State Winter Haven Fine Arts Gallery, to share with others this art form they hold so dear — and maybe even inspire someone to pick up a needle and thread.
"Quilting is about fellowship, about coming together to share ideas. It's just a wonderful thing to look forward to," said Betty Cook, who founded the Winter Haven Quilters in the late 1980s.
Even all those years ago, Cook recognized that quilting was a fading art. Though she had grown up watching her mother quilt, Cook herself had only dabbled. With a club, she figured, those interested in quilting could learn from those with more experience. They could swap ideas and maybe even share their work with the community.
"It is an art form, and I wanted to help bring it back," she said.
Since then, the club has regularly met twice a month — on the first and third Mondays — at First Presbyterian Church on Sixth Street. There are currently about 15 members, though that number ebbs with the seasons, as members return north, and with time, as others simply reach an age when they can no longer quilt.
"People are getting older. We're trying to get some new blood, but it's harder to get the younger generation to come in. Society has changed so drastically," Cook said.
The Quilters are making strides to build their membership, using email to contact former members and planning additional projects to draw new interest. One of the biggest projects the Quilters undertake each year is to create dozens of small quilts that they donate to the Polk County Sheriff's Office, so deputies can offer victims of crime or car accidents some comfort.
At this year's Polk State show, like in years past, the Quilters will display dozens of quilts of all levels and difficulty, some that are old and some that are new, some made by hand and some by machine.
Cook will display several of her works, but the most impressive may be a nearly 7-foot by 7-foot cross-stitch quilt that took her nearly three years to complete — yes, she did it all by hand.
"I worked on it everywhere I went, even when I was riding in the car," she said.
Polk State Cultural Events Coordinator Sharon Bevis said the Winter Haven Quilters show is one of the College's best-attended gallery events, and it is a perfect complement to the College's annual FallFest, which takes place in late October.
"These are truly works of art, and everyone who comes is always impressed at the variety, beauty and level of detail of the quilts," she said.
The Winter Haven Fine Arts Gallery is located on Polk State's Winter Haven campus, 999 Ave. H N.E. It is open 10 a.m. to 2 p.m. Monday-Thursday, and is free to the public. The work of the Winter Haven Quilters will be on display through Oct. 28.
For more information on the Winter Haven Quilters, contact Julie Williams at 863.221.3245.