Volunteering Promotes Teamwork and Personal Development for Polk State Soccer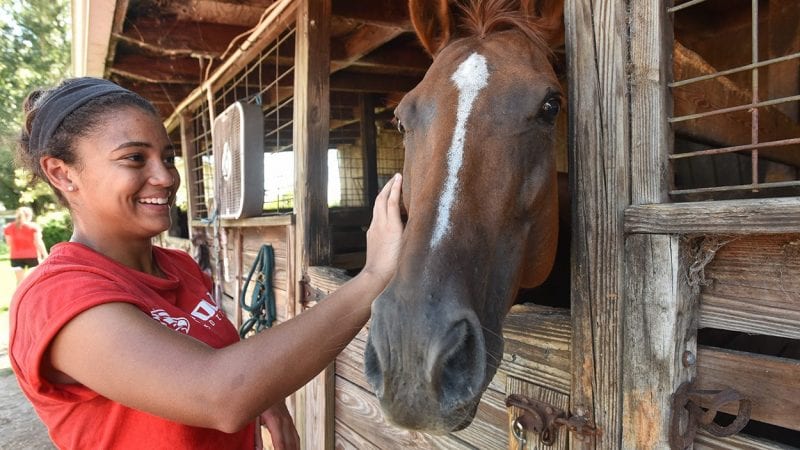 Polk State soccer players and coaches have been horsing around. For a good cause.
They have volunteered to help at Lakeland's Grune Heidi Farm Rescue, which helps prevent abuse, neglect, and slaughter of horses.
"Our passion is Arabians and American Saddlebred horses," said Erika Gilbert, who runs Grune Heidi.
"We save them from abuse, neglect, and slaughter. We rescue them from kill pens all over the United States.
"We give these animals a second chance. They are perfectly good young horses that go on to be show horses, trail horses, and pets."
Gilbert has worked to save horses for more than 40 years. She estimates she rescues and finds homes for about 30 horses a year. Because she operates the rescue effort by herself, she relies on donations and volunteers.
"The Polk State soccer players and coaches are amazing," she said. "They've been out here twice now. I like having the girls out here. They're a lot of fun."
Volunteer activities include washing and grooming horses and cleaning out their stalls.
Head Coach Steve Linamen, who encourages his players to take part in volunteer efforts, said, "Most of our players are animal lovers, so they have responded enthusiastically.
"We're helping to give back. The players come out here and later realize that a couple hours of their lives mean so much to the horses and to Erika."
Freshman Leah Neck agrees.
"I love horses and all animals," she said. "They take good care of the horses here, and I support what they're doing. I love to volunteer, and it makes me feel so good."
For Linamen, encouraging volunteer activity fits in with his mission to not only develop athletes academically and athletically, but also develop the whole person.
"I believe in helping them become strong females with great character by broadening their life experiences," he said.
"I view coaching as leading through mentoring. I would be failing these awesome young ladies if I didn't guide them in life decisions off the field as well."
He encourages his student-athletes to see areas of need in a community that they may have never known existed.
"(Polk State President) Dr. Holden has always looked to supply educational programs that support needs within our community," Linamen said. "I believe our community service projects are an extension on that philosophy."
Last year, the soccer team completed more than 1,000 hours of community service with various projects and organizations.
"The tagline 'We Are Polk' has a much deeper meaning if you look at what our athletes do," said Linamen.
"We are not just athletes, or just a college. We are a part of this community and actively look to take ownership of it."
Linamen sees his players grow from learning to work together outside of their sport to complete a task.
"They will need to do that in their careers later in life," he said. "The biggest thing I believe they get out of serving the community is seeing how the small amount of time they give impacts others. That is really what we need more of in today's society."
Linamen uses the acronym SOAR to summarize his key values: Service Leadership, Optimism, Accountability, and Respect.
"Our No. 1 core value," he said, "is the 'S' in SOAR — servant leadership."