Visual Arts Alumnus: "Polk State Was a Beginning, and Without It, I Wouldn't Be Where I am Today"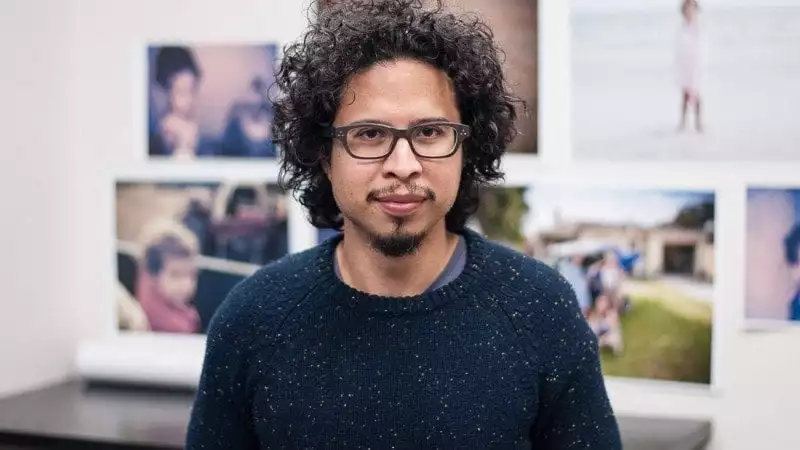 In the 50-year history of Polk State College, there are thousands of stories of alumni who have achieved success in the health sciences or public safety or business.
More rare are stories like that of Sam Romero, who from Polk went on to study at one of the country's most elite arts institutions and now works as the head of graphic design at Florida Southern College.
"Polk State was a beginning," said Romero, "and without it, I wouldn't be where I am today.
Romero grew up in Winter Haven. His mother was a Mexican immigrant who worked as an office clerk to support him and his sister. He attended Lake Region High School, where he loved to draw and paint, but the likelihood he would go on to college was slim.
"In high school, I knew I wanted to do something with art. I enjoyed it and I was good at it," he said. "But no one in my family had gone to college before, and financially, there wasn't money to go to college. College was just never a big topic at home."
Still Romero could dream, and as high school graduation neared, he travelled to Savannah, Ga., to submit a portfolio to the Savannah College of Art and Design. His work was good enough to get him accepted, and he even received a partial scholarship, but when he crunched the numbers, considered room and board, he still came up short — very short.
Then another route to higher education presented itself when Romero received a scholarship through the Ridge Art Association that would cover his first few classes at Polk.
Again he crunched the numbers. Between his scholarship, financial aid, and his wages — while at Polk, Romero worked at a carwash, for a jeweler and a student-worker in the Fine Arts department — he could afford to attend Polk State without taking on any student-loan debt.
This wasn't where he'd dreamed of studying, but it was a place to start, nonetheless.
While at Polk, Romero studied under Bob Morrissey, a well-known local artist who retired from Polk in 2008 after a 42-year career, and David Woods, long-serving professor of photography.
"One of the most important things I got out of Polk was the starting of a dialogue in the arts," Romero said. "We had critiques in David's class, where we had to talk about our work and hold our own. When I moved on in my education, and got accepted to a really prestigious arts school, I was ready."
After graduating with his Associate in Arts degree in 2001, Romero headed to Florida Southern College for his Bachelor of Arts in fine arts and graphic design. From there, always the dreamer, he set his sights high, aspiring to study at the School of the Art Institute of Chicago. In 2012, U.S. News & World Report ranked the School of the Art Institute of Chicago as the third best fine arts graduate school in the country, right behind Yale University and the Rhode Island School of Design.
Romero graduated with his Master of Fine Arts in 2007.
Returning to Polk County, he taught art for two years at All Saints Academy before taking the job at Florida Southern. His full title: director of graphic design and associate professor of art and design.
In addition to teaching aspiring artists, Romero is still making art of his own every day. He describes his work as "interdisciplinary," veering into graphic design, photography, drawing and painting. He and his wife also run their own photography business.
For all his success in the arts, Romero is self-effacing. He may stand out as one of the most successful arts alumni in Polk State history, but what he's accomplished isn't out of reach for anyone who is passionate about the arts and willing to work.
"When you think about it, nothing is impossible. Are you going to become a famous artist? Probably not. Is it possible to get a job and do something that you really enjoy for a living? Yes, if you work hard and continue to pursue it. No matter where you start, you have to keep working and you can get where you want to go."
In addition to Visual Arts, Polk State Fine Arts includes Music and Theatre, all of which enjoy outstanding statewide reputations.
Polk State College's history is rich with stories of alumni who have gone on to make impacts, whether in the classrooms and laboratories of prestigious universities, the rough and tumble of commerce, or the halls of political power. Over the years, thousands of Polk State graduates have leveraged their education and experiences at Polk to transform their own lives and the lives of others. This transformation is the essence of what it means to "be Polk." Whether in big ways or small ways, Polk State alumni embrace the challenge of living lives that matter. News@polk regularly profiles these alumni. Their story is the story of Polk. They are The Pride of Polk.