Upcoming Commencement Will Be College's Largest Ever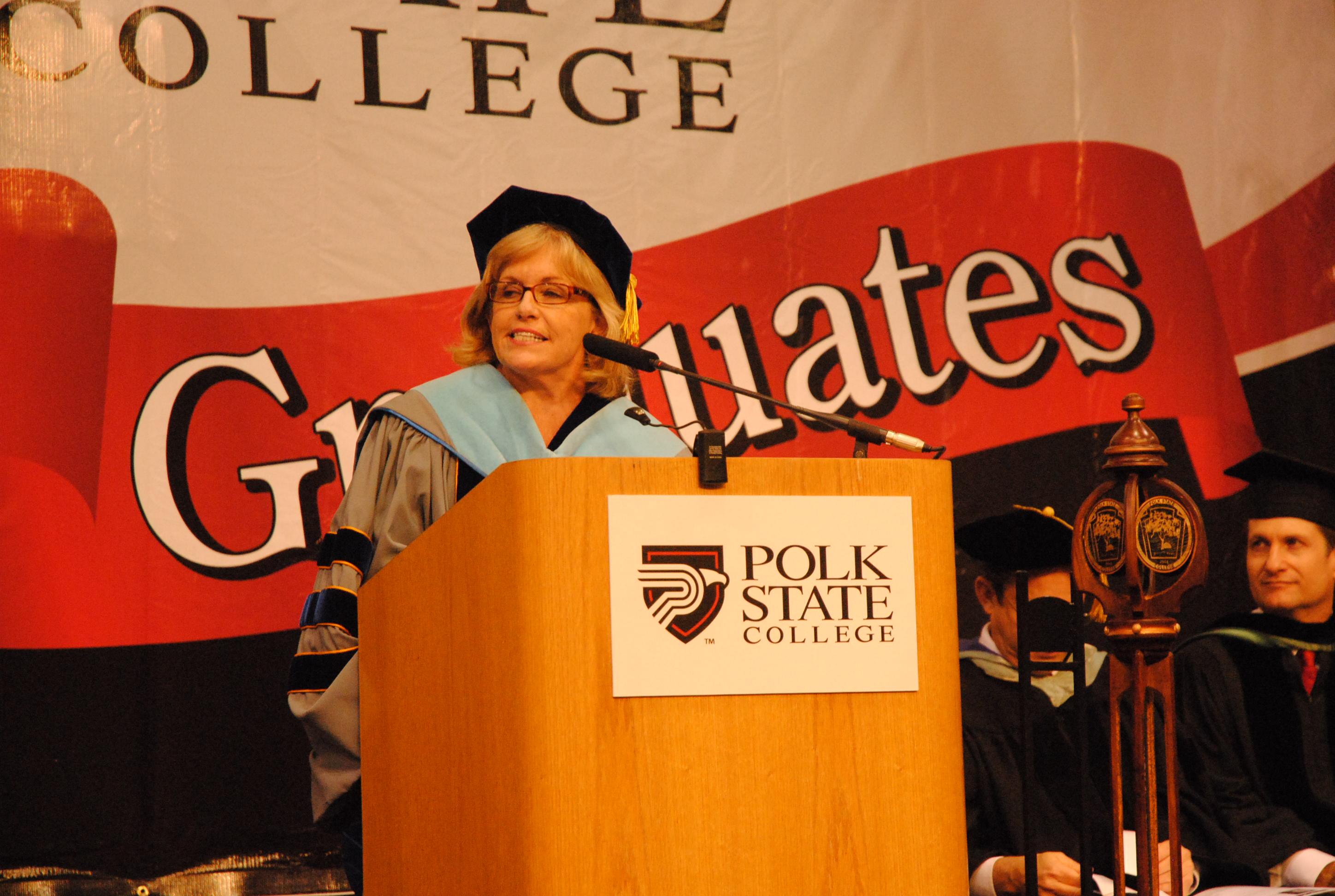 Polk State College will host its largest commencement ever at 6:30 p.m. on May 4 at The Lakeland Center.
Approximately 840 students qualify to march during the 106th commencement ceremony, the largest number ever for a single term at the college. Two-thirds of graduates will receive Associate in Arts degrees. The College will also bestow approximately 160 Associate in Science degrees; 30 Associate in Applied Science degrees; and 40 Bachelor of Applied Science degrees. The remaining students will receive various certificates that lead directly to employment opportunities.
Also among the graduates are 26 who completed the College's Honors Program.
The ceremony's guest speaker will be Randy Hanna, chancellor of the Florida College System. Hanna has a tremendous higher education background, having previously served as chairman of the Florida State Board of Community Colleges, chairman of the Florida College System Foundation, and member of Tallahassee Community College's governing board. He is currently a member of the Board of Trustees for the University of West Florida and has served as a trustee for Florida A&M University.
Hanna was also listed in the 2007-08 edition of The Best Lawyers in America and has been recognized by Florida Trend as among the state's Legal Elite. He has served as chairman of The Florida Board of Bar Examiners and is current chairman of the Tallahassee Area Chamber of Commerce.
The College will present its Distinguished Alumnus Award to LeDawn Gibson, who attended Polk State from 1986 to 1988 and returned in 1995 to finish her Associate in Arts degree. A scholarship basketball player while at Polk, in 2008 Gibson became the women's basketball coach for Florida A&M University, leading the Lady Rattlers to a 14-17 record in her first season. In 2012, her team achieved an impressive 14-game winning streak; it was the first time the team had more than 20 wins in a season since 1997. The remarkable season ended with Gibson being named Mid-Eastern Atlantic Conference Coach of the Year.
Polk State College has awarded more than 35,000 degrees since it was founded in 1964. Here is a more detailed look at this semester's graduation:
More than 400 students plan to march in the commencement ceremony, the largest number of participants ever.
Eighty students have earned the academic distinction of Cum Laude with a grade-point average of 3.4 to 3.74; 51 students earned Magna Cum Laude with a GPA of 3.65 to 3.9; and 29 students have earned Summa Cum Laude with a GPA of 3.9 and higher.
Of those receiving Bachelor of Applied Science degrees, the majority studied in the College's Business Administration track but a handful studied Public Administration.
The age range is 16 to 65.
Graduates represent Florida, Hawaii, New York, Oregon, Pennsylvania and South Carolina.
Approximately 70 percent of graduates are female and 30 percent are male.
Fifteen graduates have a 4.0 GPA.
Nursing was the most popular associate degree emphasis, followed by Business Administration and Psychology. After Nursing, the most popular Associate in Science degree is criminal justice.