"This Is Real," Featuring Artwork Polk State Students Created While Studying in the Bahamas, To Be Displayed Aug. 31-Sept. 24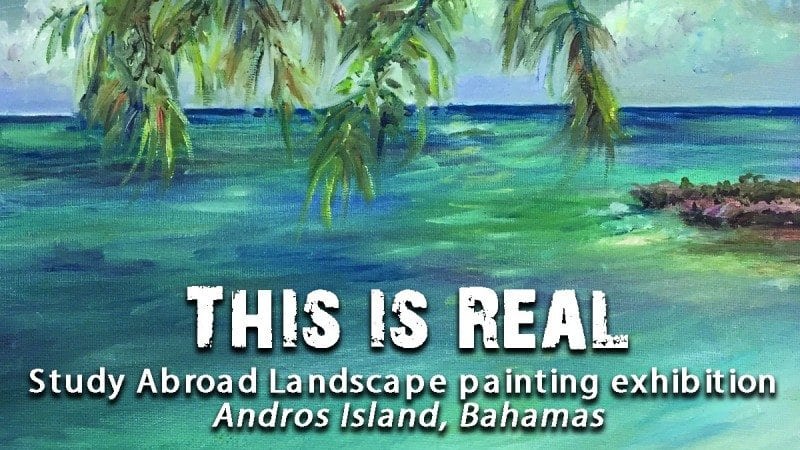 An upcoming exhibit at Polk State Lakeland will feature artwork Polk State students created while studying in the Bahamas earlier this summer.
"This painting exhibition provides a beautiful snapshot of our travels. Each painting exhibits the students' own interpretations and recollections of what they saw at various locations in the Andros," said Art Professor Holly Scoggins, who along with Biology Professor Anthony Cornett led the trip to the Bahamas.
"We traveled each day, carrying art supplies to different locations, and these paintings are the results of those strenuous efforts. Some paintings took 45 minutes to paint on site, and some took days to finish in the studio when we returned. No matter the time investment, in each painting you will see directly what the students learned while traveling the island."
During their weeklong study-abroad experience in the Bahamas, 11 Polk State College students, many studying art, others studying biology, were based at Forfar, a research station operated by International Field Studies, a nonprofit for teachers. Forfar is located on Andros, the largest but least developed of the Bahamian islands.
The students' days were filled with lectures on the island's wildlife and ecology, snorkeling expeditions, and landscape painting sessions to produce the work that will be exhibited in "This is Real."
The exhibit's name comes from the expression student Brittany Killingsworth repeatedly used to describe the experiences she and her fellow students had in the Bahamas: "This is real, guys."
"I just felt like it was unreal, like it was a dream. I couldn't put my mind around what was happening," Killingsworth said in late July.
"This is Real" will be on display at the Polk State Lakeland LTB Art Gallery Aug. 31-Sept. 24. The exhibit is free and open to the public Monday-Thursday 10 a.m. to 2 p.m. A gallery reception, also free and open to the public, will take place from 5 to 7 p.m. on Sept. 3.
All paintings in the exhibit will be available for purchase. Proceeds will benefit Polk State College study-abroad scholarships.
For more information, contact Sharon Bevis at sbevis@polk.edu.
Polk State College's Institute for Global Initiatives is planning trips to the Bahamas, Costa Rica, the Dominican Republic, France, Greece, Ireland, Italy, Mexico, Morocco, Panama and Spain in the 2015-16 academic year.