The Ride of Her Life: Polk State Student, Cancer Survivor Sonja Wagner to Bike 4,000 Miles for a Good Cause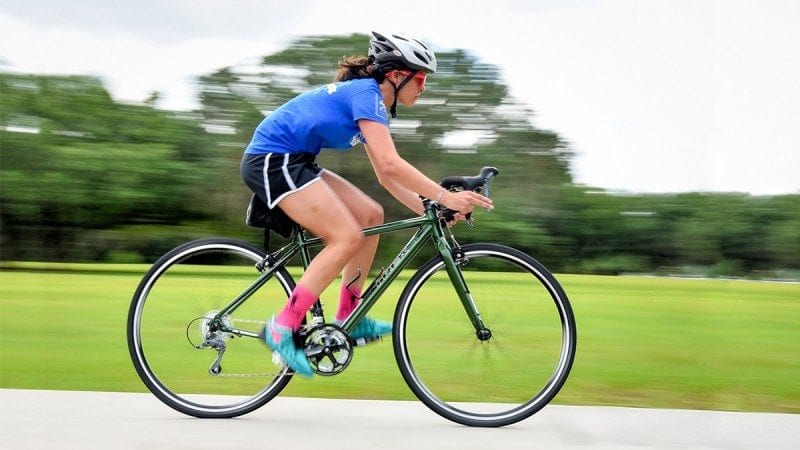 This summer, Polk State student Sonja Wagner will bike 4,000 miles, from Baltimore to Seattle, traversing the Appalachians, the Black Hills, the Big Horn and the Bitterroot.
In preparation, Wagner is pedaling 100-plus miles a week —and hoping that her next cancer scan, a test she undergoes every three months, comes back clean.
"As long as I'm physically able, I'm not going to let anything stop me from going," she said.
That Wagner is even able to plan and train for such an ambitious trip is a triumph in itself.
Six years ago, Wagner, 25, was a healthy and carefree sophomore at Florida Southern College, who was only slightly worried about the large lump in her thigh. Athletic by nature, Wagner figured she'd strained a muscle and the lump would go away.
Instead, it kept growing, and Wagner's health began to fade. She lost weight and hair. She began having heart palpitations and pain. Doctor after doctor couldn't find the source of her sickness.
Finally, CT scans revealed tumors in her stomach, leg and pelvis.
Wagner underwent emergency surgery and was soon diagnosed with malignant peripheral nerve sheath cancer, a rare disease in which tumors grow on the protective lining of nerve cells.
Wagner's cancer was pegged at stage 4 — stage 5 is considered terminal — and she was given only a 50 percent chance of living for another five years.
Listening to Wagner recall her first bout of cancer, it's impossible not to think, "What would I have done?" In what should have been the healthiest years of her life, Wagner had just been told death was a very real possibility. It would have been so easy for her to slip into self-pity, to envy her friends' vitality, their freedom to worry about nothing more than the upcoming midterm or what to wear on Friday night.
Instead, from the very first day of her "cancer patient life," Wagner was determined that her disease would not define her, nor would it steal anything more than her hair.
"I still lived on campus and went to class. My professors still expected the same work. I would go to the hospital for chemo on Friday, Saturday, Sunday and Monday, and be back at class on Tuesday. I really think that's what kept me going," Wagner said.
In the years since her diagnosis, Wagner has relapsed three times, undergoing more surgeries and chemotherapy.
Like she promised herself in those first days, however, she has never let cancer limit her life. If anything, she has lived more fully because of her disease.
A few years ago, she went skydiving within hours of being released from the hospital. When her sister got married, Wagner was by her side at the altar, having just undergone liver surgery a day earlier.
She also graduated from Florida Southern College with a degree in exercise science and nutrition. At Polk State, where her mother, Matina, works as an enrollment services and outreach coordinator, Wagner is completing prerequisites needed to enroll in a physician's assistant program.
"I really think that I got cancer so I could do something good with it," Wagner said. "When I'm working with cancer patients in the future, I won't give them an empty, 'I know what you're going through.' I really will know what they're going through, and I'm going to be able to guide them through their treatment and help them cope."
Her upcoming bike ride then, remarkable as it is, is also so typically "Sonja." In early March, Wagner underwent surgery to remove a mass from her lung. She came away with a couple new scars, but even deeper resolve to accomplish her ride.
Wagner will pedal as part of the Ulman Cancer Fund for Young Adults' 4K for Cancer. Ulman is a Baltimore-based nonprofit that benefits young adults, and their loved ones, affected by cancer.
Combined, the 176 participants in this year's 4K for Cancer aim to raise $1 million in sponsorships.
The trek will be physically grueling. Wagner and her fellow riders will log an average of 57 miles per day. Each night, they will unroll their sleeping bags, resting as best they can on the floors of YMCAs and host families' houses. They will endure rain, heat, cold and blisters.
Emotionally speaking, however, the trip will be so much more. Along their way, Wagner and her fellow riders will stop to present scholarships to young people battling cancer. They will cook meals for patients and their families. They will share their own experiences and words of encouragement.
"I've never really spent any time with cancer patients who are my age," she said. "It's going to force me to be a better person, and to expend myself physically and emotionally. I understand what they're going through, and I want to share that with them, but I'm also going to be spending time with their families, which is going to help me understand what my own family has been through with me."
In light of her recent relapse, it's impossible not to ask Wagner: What if something happens?
She just shrugs. She will have a scan just a few days before the trip to be sure she's cancer-free. Her best friend, Devon Callagy, a registered nurse, is riding with her, and can help if her health begins to falter.
"I decided early on that cancer wasn't going to hinder me, and I'm not going to start now," Wagner said. "I'm going to live my life the way I want to every day that I'm here."
Wagner's personal fundraising goal is $8,000; donations can be made at 4Kforcancer.org/profiles/sonja-wagner/#.