TALON Robotics Students Having Some Serious Fun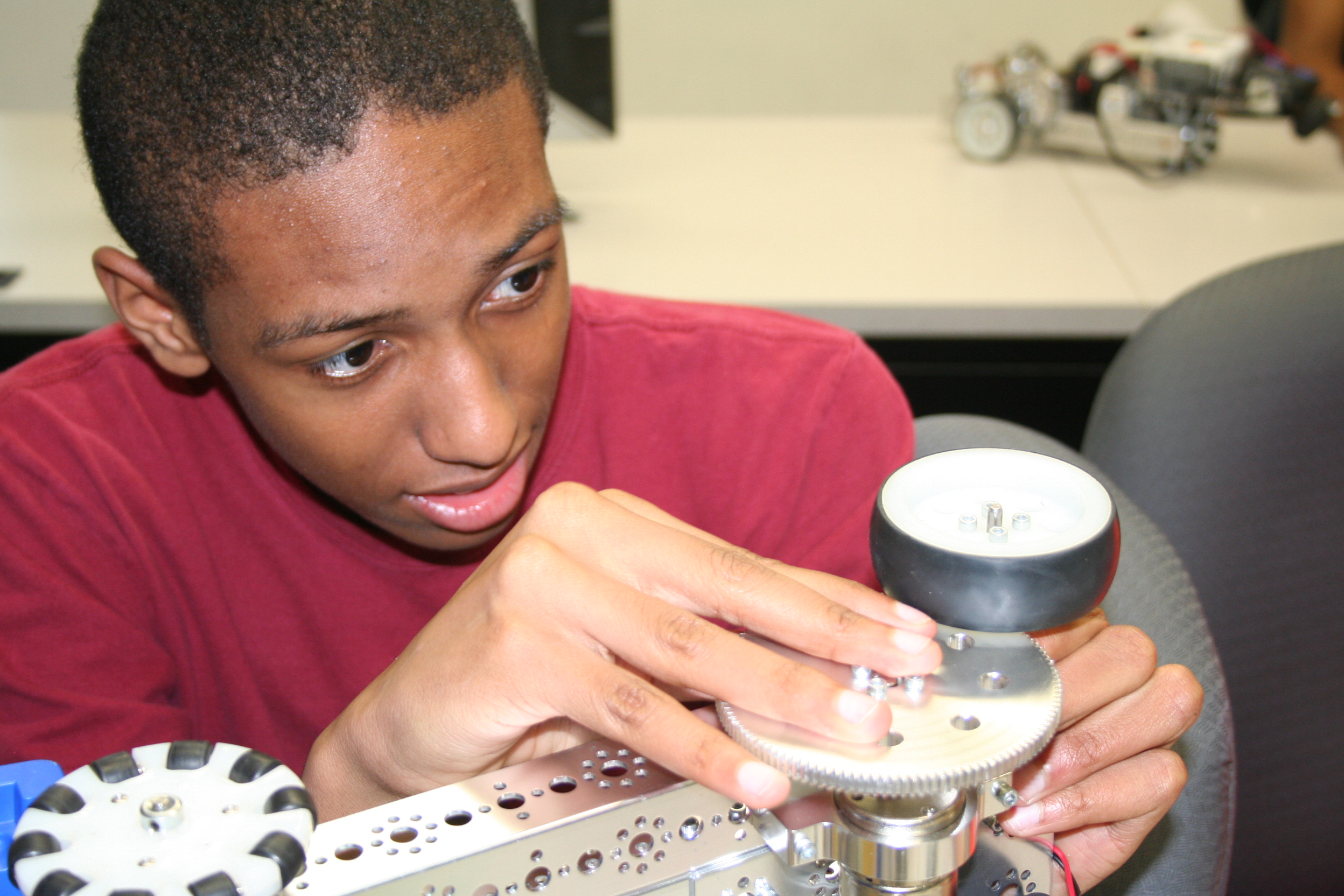 Standing outside the classroom where about a dozen high-school kids are participating in TALON Robotics, it sounds like there's too much fun going on for serious learning to be taking place.
The whizzing of wheels.
Erupting laughter.
Triumphant hollers.
But step inside and it quickly becomes clear that this is serious academic stuff.
At computers, the students enter programming code that is then translated to their self-designed robots' gears and wheels. Using small tools, they make minute adjustments to widen their robots' turning radius. They test their work on an obstacle course — a toppled cardboard tube is defeat, an untouched box is success.
Nearly 40 high-school and middle-school students are participating in TALON Robotics, a first-year program at Polk State College that uses robotics to deliver STEM education — science, technology, engineering and math.
"Robotics is a great hook that gets the kids really excited," said Ben Braatman, TALON site administrator and a science teacher at Bartow High School and Summerlin Academy. "But it's also a great way to teach problem-solving."
The problem-solving element of TALON was certainly evident during a tour of the program Thursday, where seventh-graders Grace Borst and Winston Allen tested their robots on a course filled with empty plastic water bottles.
The idea was to shave seconds off the time the robots took to complete the course, all while avoiding the bottles.
"We had to add to the power and add another sensor, which helped us pick up a little more speed," said Borst, a Winter Haven resident who wants to one day be a photographer for National Geographic.
Down the hall, in another classroom of Polk State Chain of Lakes Collegiate High School, Ardrin Lashley was working through a problem of his own. Somehow, his robot built of LEGO Bricks had to be able to push a small cylinder into the correct position under a dam also built of LEGO Bricks.
Programming the robot to complete the task is a lot of trial and error, Lashley said, but also a lot of fun.
"I love robots. I like building them and programming them," said Lashley, who added that as much as he likes robots, his real interest is time travel.
Across campus at the Winter Haven Learning Resources Building, TALON's high-school participants were refining and testing their robots built using the TETRIX Building System, which includes heavy-duty, aircraft-grade aluminum parts.
Khari Lashley and Nick Johnson, both 14, were having trouble getting their robot to clear a cardboard tube.
"It keeps cutting the turn too close," said Lashley, a freshman at George Jenkins High School in Lakeland.
So he and Johnson sat back down at the computer and typed in a new programming detail, uploaded the data to their robot and headed back to the obstacle course.
This time, the robot cleared the tube just fine.
Lashley and Johnson nodded in approval.