TALON Robotics Participant Recognized as Sunshine State Scholar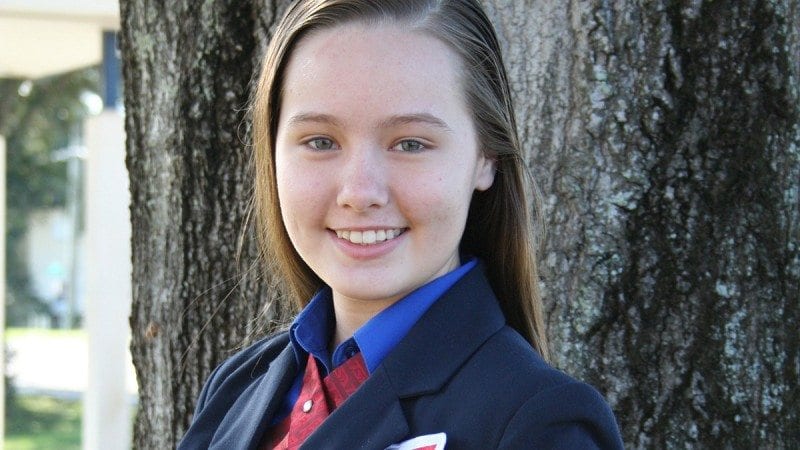 A high school student who volunteers with Polk State College's TALON Robotics program has been named a Sunshine State Scholar.
Each year, every school district in the state selects an academically outstanding 11th-grader to receive the Sunshine State Scholar distinction. This year, Polk County selected two students, including Kristianna Nicolai, a junior at Winter Haven High School who volunteered with TALON in 2014.
Nicolai said her involvement with TALON gave her an edge in the Sunshine State Scholar competition.
"Students are selected for their academic achievements and their involvement with STEM," she said. "Volunteering with TALON definitely helped me stand out."
Nicolai studies in Winter Haven High School's Technobotics Academy, in which students gain hands-on experience with robotics, from building and programming machines to participating in competitions. Additionally, Nicolai is a member of the school's Technology Student Association and robotics team. She and her teammates, coincidentally, recently qualified for the U.S. Open Robotics Championship, which will take place in April in Iowa.
"I just like robotics," said Nicolai, who plans to become an engineer.
When Nicolai heard about Polk State's TALON, a summer program for middle- and high-school students, she was excited about the opportunity to learn even more about robotics.
Nicolai attended TALON in 2013, and volunteered with the program in 2014.
"TALON complements what I'm learning in class, but gives me the chance to get a lot of new knowledge, too," she said.
Nicolai plans to volunteer with TALON again this summer as well.
As a Sunshine State Scholar, Nicolai will be recognized during a two-day event this week in Orlando. She will meet with STEM industry leaders to learn about the recent innovations and career opportunities. She will also meet with representatives from the state's colleges and universities.
"It's a great resume-builder," she said.
In addition to Nicolai, Polk County's other Sunshine State Scholar is Divya Ravinder from the International Baccalaureate School at Bartow High School.
TALON Robotics will take place June 10-24. For more information and to register, visit polk.edu/talon-robotics.