Summer Registration Starts April 8 at Polk State
Registration for summer classes at Polk State starts April 8.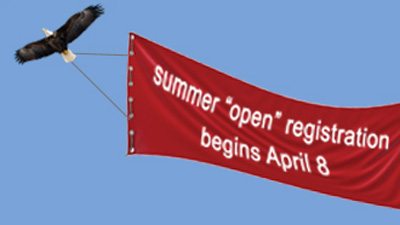 Students currently enrolled at the College may register for the summer term online through the College's Passport.
Prospective new students should first submit an online application to the College at polk.edu. After doing so, they will be scheduled for an orientation session, during which they will register for their first classes.
A complete, step-by-step guide to the admissions process is available at the College's website, under the "Admissions" tab. The guide provides students with information such as how to apply for financial aid, how to request transcripts, and when to schedule placement testing. The website also provides an online course catalog, which will help in choosing and planning a course of study.
Priority registration for students who have completed at least 30 credits begins April 1.
Registration for dual-enrollment students — those who are taking college classes while still in high school — will begin April 15.
Summer classes begin May 8 and end August 6. Summer classes are offered in six-, eight- and 12-week sessions. For start and end dates of each session, see the academic calendar at polk.edu.
Polk State College, an open-access institution, was established in 1964, and serves more than 20,000 students annually. Its offerings include the Associate in Arts, which is parallel and fully transferrable to the State University System, and the Associate in Science, which is designed to lead directly to the workforce. The College also offers a variety of continuing education and certificate programs. For more information, visit polk.edu.