Summer Priority Registration Begins April 3, Open Registration, April 10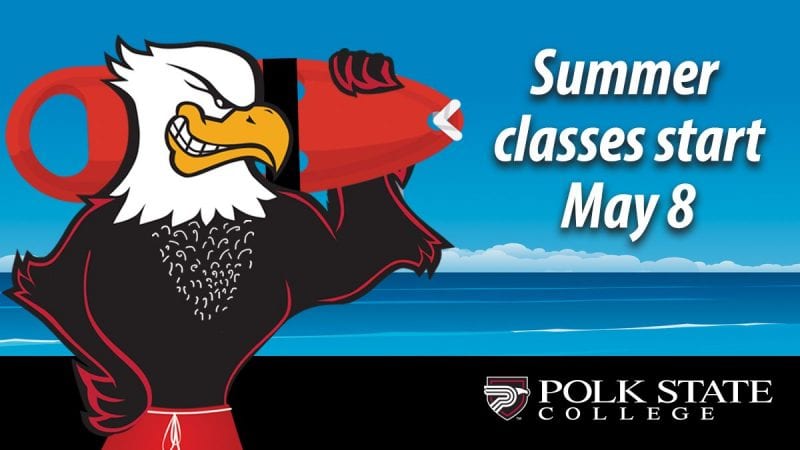 Priority registration for summer classes at Polk State begins Monday, April 3. Open registration begins Monday, April 10.
Currently enrolled students may register for the summer term through the College's student portal, Passport. Students who are pursuing the Associate in Arts degree must declare a transfer major and transfer institution. Students who have 12 or more credit hours and have not declared their transfer intentions will have a registration hold.
Prospective new students should first submit an online application to the College. After doing so, students will receive an admission letter with information on how to complete orientation and register for their classes.
Students may complete orientation online by clicking "Student Orientation" at polk.edu/admission-aid. The orientation includes videos on all the standard new-student topics, such as financial aid resources and campus safety contacts. Orientation is required for all new students.The College also offers an online academic advising "Personal Snapshot," also found under the "Student Orientation" tab at polk.edu/admission-aid. The snapshot helps students assess their abilities in math, reading and writing, as well as their responsibilities outside the classroom, such as work and families. The snapshot is intended to help students make more informed decisions as they start their college careers.
In addition to the online application, orientation and personal snapshot, the College's Admission Guide is also available at polk.edu/admission-aid. The guide provides students with information such as how to apply for financial aid and how to request transcripts, as well as a step-by-step checklist of everything students need to do to enroll. Students who prefer an online resource can use the Admission Steps which is a web-based format of all the information in the College's Admission Guide.
When planning for the summer semester, students are encouraged to begin the financial aid process as soon as possible. The first step is to complete the FAFSA (Free Application for Federal Student Aid). The form can be completed at fafsa.ed.gov. Students must submit all financial aid documentation by April 18. Students who miss that deadline will have to pay for their classes, and if they qualify for aid, they will be reimbursed later.
Throughout the financial aid process, students should regularly check Passport and their institutional email accounts. The College sends important financial aid and admission information to students via Passport and College-issued email accounts. Delays most commonly occur because students don't respond to those messages.
Twelve-week summer classes begin May 8 and end Aug. 3. Eight-week summer classes begin May 8 and end June 29. Six-week summer classes take place May 8- June 19 and June 21-Aug. 3.
For questions or more information, student service hours are Monday-Thursday, 8:00 a.m. – 7:00 p.m. and Friday, 8:00 a.m. – 5:00 p.m.
Polk State College, an open-access institution, was established in 1964 and serves more than 24,000 students annually. Its offerings include the Associate in Arts, which is parallel and fully transferrable to the State University System, and the Associate in Science, which is designed to lead directly to the workforce. The College also offers a Bachelor of Applied Science in Supervision and Management, Bachelor of Science in Nursing, Bachelor of Science in Criminal Justice, and Bachelor of Science in Aerospace Sciences, as well as a variety of continuing education and certificate programs. For more i