Students Participate in Eating Contest to Benefit Shooting Victims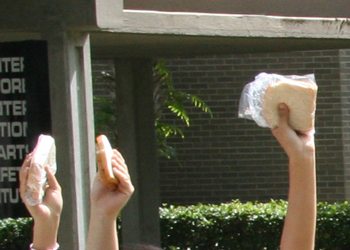 In honor of two students who were killed in a shooting last week, and another who was injured in the incident, Polk State hosted a Nutella & Peanut Butter Eating Contest on Monday on the lawn outside the Winter Haven Student Center, a favorite hangout of the victims.
Students Joe Palacios and Christian Rodriguez were killed in the April 24 shooting in Winter Haven. A third student, Esteban Zavala, was injured.
The Nutella & Peanut Butter Eating Contest was a student-led event, with all proceeds to benefit the families of the victims. About two dozen students participated, and over $1,000 was raised.
Student Trang Pham choked back tears as she explained to the crowd that her friends loved sandwiches and that Palacios was especially a fan of Nutella and peanut butter.
"Ever since his girlfriend introduced him to the sandwich, he was obsessed," she said. After joining hands in prayer, the eating contest began and students and members of the Polk State staff collected donations from onlookers.After the Nutella & Peanut Butter Eating Contest, students gathered for a group photo, sending their love to Joe Palacios, Christian Rodriguez and Esteban Zavala.
Zavala's uncle, Alan, watched the contest and said Esteban — who continues to recover from his injuries — was excited to hear about what his friends had planned.
"He had a message for everyone. He told them to be safe and that he misses them," Alan Zavala said.
The Nutella & Peanut Butter Eating Contest followed a Saturday car wash that raised nearly $7,000 to benefit the victims of the families.
Additionally, the College is accepting donations to its Student Relief Fund to benefit the families of the victims. Donations may be made at the Cashier's Office on the Lakeland or Winter Haven campuses.
Visitation and viewing for Palacios and Rodriguez will be held on Tuesday, May 1, from 5 to 7 p.m., at Oak Ridge Funeral Home, 1001 Grace Ave. East, in Haines City. A joint funeral will take place at Haines City's Lake Eva Banquet Hall on Wednesday, May 2, at 11 a.m., followed by graveside ceremony and fellowship event.