Students Named Finalists in National Photography Contest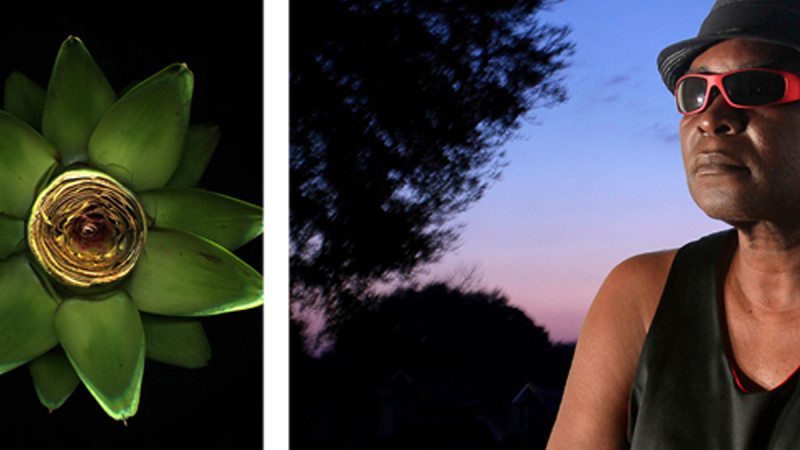 Two Polk State College students are finalists in Photographer Forum magazine's 32nd Annual College & High School Photography Contest, a competition that attracted more than 17,000 entries.
Lorenzo Johnson and Joseph Vega, both students of Polk State Art Professor David Woods, will have their photographs published in the hardcover Best of College & High School Photography 2012, a compilation of finalists in the Nikon, USA-sponsored contest.
This is not the first time Polk State students have been named finalists in the competition, but it's the first time the College has had two students advance so far in the same year. The large number of entries —17,700 — makes the students' success all the more significant, Woods said.
Johnson's winning photo is a composite of a self-portrait taken in his living room and an early-morning sunrise.
"Mornings are very beautiful to me, with the light. I thought it would look pretty cool if I took this image of myself and put it together with a sunrise," said Johnson, 57, a resident of Bartow.
Vega also found his inspiration in the natural world — specifically, in an artichoke.
He was stumped by an assignment to create a photo using a scanner, and was mulling the idea of using shells. Then he visited his local grocery store's produce section and found a much more compelling subject.
"I took a trip to Publix and looked around the vegetable aisle, hoping to find some inspiration, because up until then the only idea I had was using shells as part of my project. I saw lots of weird veggies, but the one that really caught my eye the most was the artichoke," said Vega, 20, a resident of Brandon. "I opened it up a little so it could look like a blooming flower and that's how I came up with the winning photo."
Both Johnson and Vega said their passion for photography has only grown since studying under Woods, and they plan to use what they've learned in their future careers.
"If there is one important thing that I've learned from Professor Woods, it is that photography is a fun thing to do. Even though there is a business aspect to it all, and there are going to be stressful times, I still have to have fun with it and enjoy the craft if I want to be a successful photographer in the future. Like Professor Woods says, if you don't love doing what you're doing, then there's no point in continuing in that field, and photography is one of those fields that truly make me happy," Vega said.
Johnson wanted to pursue photography decades ago, but put his dream on hold while he served in the military and raised a family. He spent years working in Polk County's phosphate industry and as a landscaper. Then in 2010, with decades of hard work behind him, he came to Polk and rediscovered his love for the camera.
"It just goes to show you that you don't have to give up on your dreams. It may be a long time coming, but you can pursue your dreams. The good Lord has a way of giving you what your heart desires. You just have to be patient," Johnson said.
For Woods, the accomplishments of Johnson and Vega are further proof of the success of the College's photography courses.
When Woods came to Polk State 15 years ago, there were 10 students in a photography class. Now, there are more than 100 students taking three photography courses — Digital 1, Digital 2 and the recently added Art of Photographic Lighting. Woods has also seen the College create a state-of-the-art studio and lab space, helping students to learn the most cutting-edge techniques.
What is most satisfying, however, is that so many Polk State students are making viable careers out of their passion for photography. He rattles off names of graduates who have gone on to start their own photography businesses.
"Our students are learning skills here at Polk that allow them to go out and independently support themselves. That's huge," Woods said.