Student Hopes Veterans Find Inspiration, Comfort in Painting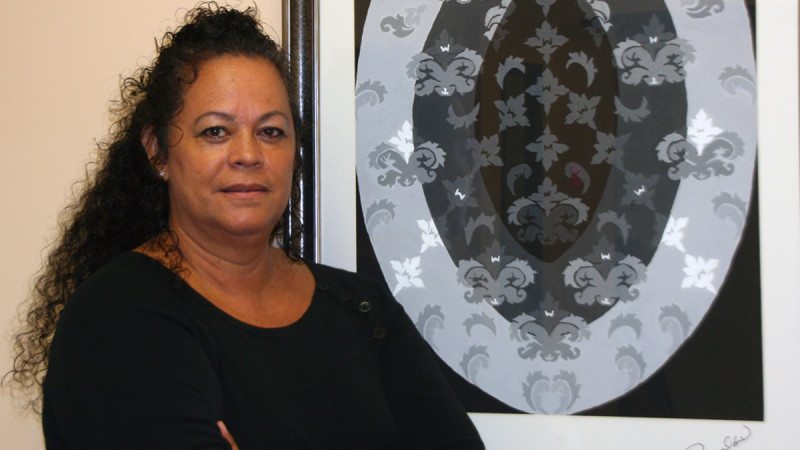 When Polk State student June Reynolds first put her paintbrush to a blank sheet of poster board last spring, all she wanted to do was her homework.
Instead, with each stroke she made, each new layer of color she added, Reynolds found a bit of inner peace.
Her finished work, she hopes, will do the same for the College's student-veterans.
"I hope when they look at it, they take a breath, let it out, and say to themselves, 'OK, I can do this,'" said Reynolds, 55, a resident of Winter Haven, who served for six years in the Marine Corps during the 1980s.
Reynolds created the painting, three concentric ovals overlain with a pattern that contains a hidden peace sign, as an assignment for a Design I class taught by Polk State Art Professor Holly Sailors.
That assignment, Reynolds said, called for experimenting with white, grey and black, as well as patterns.
Her first impulse, she said, was to divide the painting into thirds, one for each color, along lines that formed a peace sign. Experimenting more than following a grand vision, she added the ovals and pattern, one she found visually appealing but was also easy enough to replicate.
With each element she added, Reynolds came to relish the feeling of disappearing into the painting, of forgetting everything but the brush in her hand.
"With painting, it becomes just you and the canvas. It's comforting. It's peaceful," she said.
The finished work was entered into the College's spring student art exhibition.
Each spring and fall, the Visual Arts Department selects a handful of student works to purchase for its permanent collection, and Sailors and her fellow faculty members agreed Reynolds' as-yet-unnamed painting deserved that distinction.
"June's painting really became a piece of work. It transcended the typical assignment," Sailors said.
Purchased student works are displayed around campus. When it came time to find a place for Reynolds', the office of Veteran Services Coordinator Carole Shelton-Toney was the obvious — and perfect — spot. Shelton-Toney's office is located in Student Financial Services on the Winter Haven campus.
Sitting at her desk, the painting hanging on the wall behind her, Shelton-Toney said student-veterans face a wide range of struggles as they try to transition from military to college life. Reynolds' painting, she said, will serve as inspiration for those who come to her, wondering if they'll ever successfully adjust.
"I can point to this painting and say it was done by a veteran who keeps moving forward in life," Shelton-Toney said.
Also, Reynolds' creation is a perfect way to start a conversation about how hobbies such as painting can be therapeutic for those who have been diagnosed with post-traumatic stress disorder, Shelton-Toney said.
Having the painting purchased and hung, Reynolds said, is certainly personally fulfilling, but even more so is the idea that it may inspire or in some way speak to student-veterans. Veterans hold a special place in Reynolds' heart; her husband, Stephen Reynolds, served more than 30 years in the Marines, and several of her family members are veterans, too.
"I hope that what student-veterans see in my painting is that in any struggle, or any obstacle you have to overcome, you have to come out of the darkness and go through the grey to make it to the light," she said.
"But in going through those struggles, and going from the dark to the light, you will find inner peace."
Polk State College currently serves more than 400 student-veterans, and that number is growing at a rapid rate.