Student Butler Charles: Flying High With the Patrouille de France at SUN 'n FUN Fly-In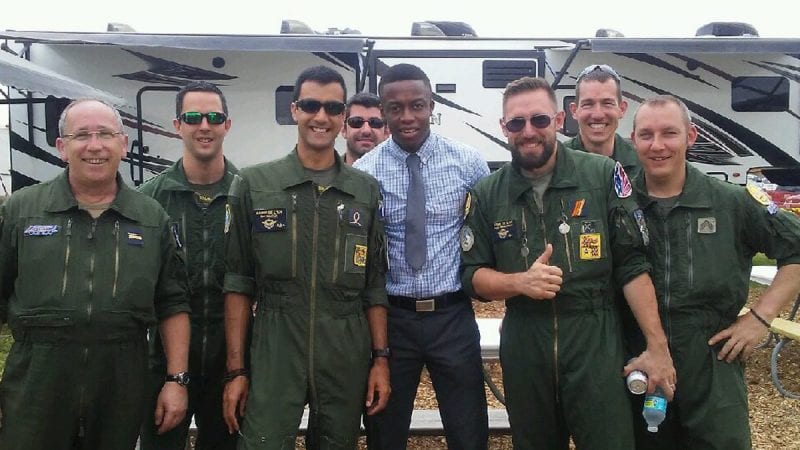 It was just another Monday when Polk State student Butler Charles got the invitation of a lifetime— to join the French air team Patrouille de France as one of the official translators during their visit to the SUN 'n FUN International Fly-In on Tuesday, April 4.
Eric Crump, program director for the Polk State Aerospace Program and Orathai Northern, interim dean of academic affairs and district dean of academic programs, contacted John Barberet, professor of French, regarding the need for French translators to assist the international visitors. Barberet reached out to a few of his best students and Charles jumped at the chance.
"Professor Barberet contacted us and let us know they were in need of translators for the day," he said. "I had a free day and thought it would be a really interesting opportunity. I was the only student who was available, and I got the experience of a lifetime."
Charles's day began with introductions to the team and to the lead pilot who would accompany Charles during the visit. Charles quickly learned that the team had a strong understanding of the English language and not much need of his translation skills, but he was still excited for the chance to engage the team and learn about aviation from a new perspective.
"When I arrived, the team immediately greeted me in English," he said. "Because of their work with the military, they had a good grasp of the language. Still, they invited me to share in their day and took me 'under their wing.'"
Indeed, Butler was treated to the VIP SUN 'n FUN experience, including attending a variety of pre-show security briefings.
"It's amazing how much planning goes into every show," Charles exclaimed. "I got to witness first-hand all of the safety and security measures in place while these teams to perform. I never knew just how complex the planning process is."
Charles also had a behind the scenes  view of various aircraft on display at the air show.
"When we arrived to tour the Air Force C-17, I thought we would have to wait in line like the other attendees," he said. "Instead, we were quickly escorted in and given the full view of the airplane— from sitting in the cockpit, to hearing about its state-of-the-art innovations."
For Charles, the day was like nothing he had experienced before. It will remain a highlight of his time at Polk State College, as he hopes to finish his degree soon and join the military.
"For me, the experience wasn't just about a fun day," he said. "I want to join the military and help people. I felt inspired by the pilots and crew I met. They work tirelessly to keep us safe, and I want to do that too."