State Education Commissioner: "Every Single Student in Florida Can Achieve and Receive High-Quality Education"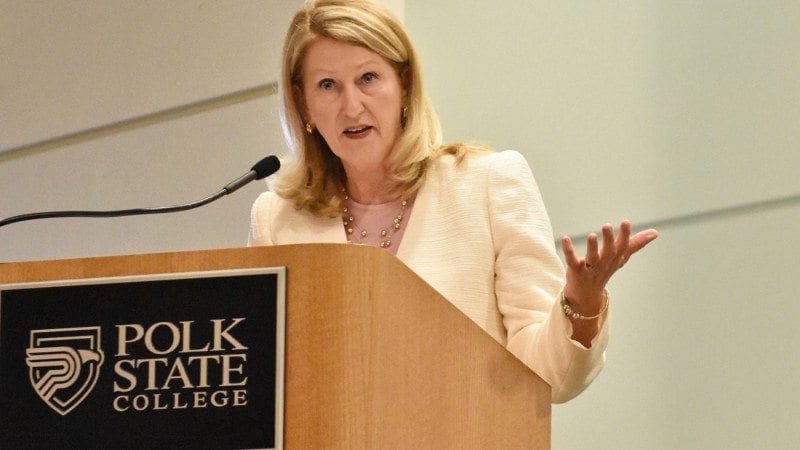 Florida is making progress in preparing high-school students for success in their future studies and careers, but there is always more that can be done to develop critical-thinking and problem-solving skills, said Florida Department of Education Commissioner Pam Stewart during Thursday's College and Career Readiness Summit at Polk State Lakeland.
"Every single student in Florida can achieve and receive the high-quality education needed to be successful," Stewart said.
Stewart talked about the relevance of today's curriculum standards to the development of students who have the problem-solving and critical-thinking skills needed to succeed in higher education and in the workplace.
"Solving problems and thinking critically are so important," she said. "Employers need employees who can solve problems, think critically, communicate, be flexible, and work with others.
"These are transferable skills."
As an example, she cited heavy equipment operators, who need at least a high-school diploma plus math and language arts skills.
She provided a number of statistics about educational success in Florida. For example, over the last five years, Florida's graduation rate increased by 17 percentage points. This happened while graduation requirements, as well as the way in which the graduation rate is calculated, have become more stringent.
Also, Florida is the only state in the nation to narrow the achievement gap between African-American and white students in both reading and math.
In addition, students in Florida who receive free and reduced lunches outperform those who receive free and reduced lunches in all other states.
 Florida ranks seventh in the nation in student achievement.
 Stewart believes these improvements come in part from increased accountability. Students are learning more now than ever before thanks to rigorous standards.
 "We have the right standards in place," she said. "Standards help students reach higher levels and create lifelong learners and problem solvers."
Following Stewart's remarks, a panel discussion focused on preparing students for college and careers. Panelists included Polk State student MeLynda Rinker, as well as Bartow High School student Erick Meza, Winter Haven businessman Bill Sands, City of Auburndale Communications Manager Merissa Green, and parent Ravinder Pasumarthi.
 Polk State faculty members Orathai Northern and Anna Butler then provided a summary of the Curriculum Alignment Project of Polk, a partnership between Polk State and the Polk County Public Schools to address college and career readiness for students.