Spring 2020 Student Art Exhibition winners credit Polk State Visual Arts with skills and artistic freedom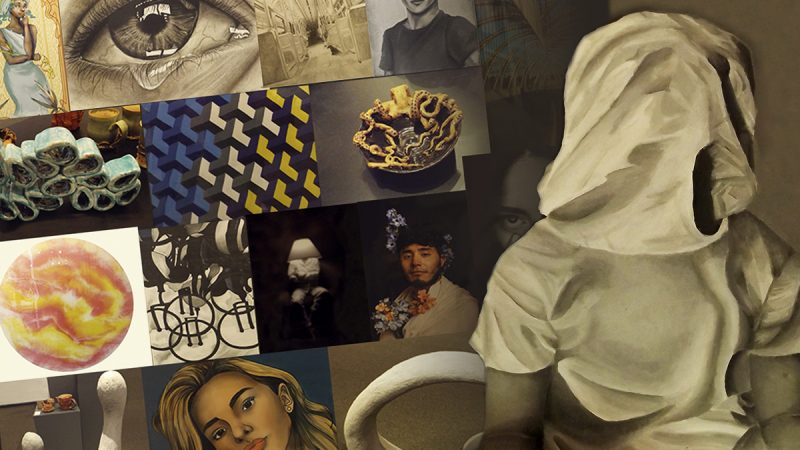 A diverse exhibit of student artwork filled the Polk State College Lakeland Fine Arts Gallery before the COVID-19 health emergency shuttered the campus's doors. From paintings and drawings to sculpture and mixed media, the Spring 2020 Student Art Exhibition showcased the many skills of Polk State's students through their thought-provoking work.
Despite the need to end the exhibit early, Polk State's Visual Arts Program is celebrating winners virtually and invites the community to join in on congratulating the students and enjoying their art.
"During this time, we should acknowledge that when the world isolates, the public turns to the arts for entertainment and reprieve," Professor of Visual Arts Holly Scoggins said. "I hope that the community will support the arts during this time and in the future when our doors are open again."
The semi-annual student art exhibition features work from both art and non-art majors and is curated by full-time art faculty members Andrew Coombs, David Woods, and Scoggins. The exhibition is hung by visual arts scholarship students and art work-study students and judged by a visiting professor. The spring semester's exhibit was reviewed by Kristin Carter, Assistant Professor of Art History and Museum Studies at Florida Southern College.
The most prestigious award is Best in Show. Madison Cuervo's "Suffocation" received the top honor as well as Best in Category for Painting. The acrylic piece is a small black and white painting showing an individual with a bag over their head. Cuervo's inspiration: horror, she said.
"Usually people paint something pretty – flowers, eyes, portraits," Cuervo explained. "Pretty doesn't interest me. I aspire to create pieces that are interesting to look at. For me, that includes things that people aren't used to seeing."
With a love for Halloween and a push to pick a specific topic for her art in her high school AP Art Portfolio class, Cuervo has focused on horror through a variety of mediums, including mixed media, collage art, graphite, charcoal, oil, acrylic, and her favorite, stippling.
After high school, she considered a private art institution to continue her education.
"Polk State was the local, affordable option and I am glad that I made this choice," said Cuervo, who is pursuing her Associate in Arts degree through the Transfer Track in Arts. "At Polk State, I have freedom with my art and have had the opportunity to try different things."
And as the Best in Show winner of the Student Art Exhibition, Cuervo will receive a Visual Arts Scholarship sponsored by the Polk State College Foundation, a package of art supplies, as well as promotion of her artwork on the next exhibition poster.
She aspires to achieve a bachelor's degree and a career in art.
Jennifer Lopez, who is also pursuing her Associate in Arts degree through the Transfer Track in Arts, wants to work in animation and 3D modeling. Her drawing, "Goodnight Love," received Best in Category in Drawing as well as a Purchase Award.
The charcoal drawing of a crying eye was inspired by her mother's, Lopez shared.
"I loved it for the exhibit because I felt like eyes are the gateway to the soul and there is a lot to see from someone's eyes," she said.
She continues to grow as an artist at Polk State, she added.
"My experience at Polk State has been a very positive one. The professors are very open and easy to talk to. They guide me down the right path and give me criticism and feedback that is helpful to shaping my skills," Lopez said. "The atmosphere is very calming and there is no competition. Everyone is open-minded and supportive. I have really grown as an artist since attending Polk State and I think that I will continue to improve."
Olivia Yeager, an Associate in Arts student whose "Medusa Nouveau" received Honorable Mention in Design, echoed a similar sentiment.
"Polk State has been equal parts challenging and rewarding," Yeager said. "The classes ask me to use my skills and try things I never would have. I also get the opportunity to interact with the public in the gallery through the cultural arts scholarship, and one of the greatest things about art is seeing others connect with it."
Jacqueline Vega, whose "Dog and Cock" received a Purchase Award, expressed that her inspiration for her foam board came from her connection to her peers.
"By watching my fellow peers and working on our projects as we go through the semester, seeing everyone engage through participation in class made me want to build on that," Vega said. "I've been able to grow as an artist and explore more mediums of art than I thought I'd be able to at Polk State."
Through the Transfer Track in Art and opportunities to share their artwork with the community, Polk State's students are prepared for higher levels of education as well as careers in the arts.
The full list of Polk State's Spring 2020 Student Art Exhibition winners is as follows.
Best in Show – "Suffocation" – Madison Cuervo
Ceramics
Best in Category –  "Water Drops" – Katelyn Edelson
Honorable Mention – "What's Kraken?" – Heather Thomas
Design
Best in Category – "Tessellation" – Finn Hoffner
Honorable Mention – "Medusa Nouveau" – Olivia Yeager
Drawing
Best in Category – "Goodnight Love" – Jennifer Lopez
Honorable Mention – "Experiments in Perspective" – Allison Gauna
Mixed Media​
Best in Category – "Pink Lemonade" – Judith Zamora
Honorable Mention – "Bee Cycle" – Kaitlyn Hilserling
​Painting
Best in Category – "Suffocation" – Madison Cuervo
Honorable Mention – "Historically Queer – G of LGBT" – Alex Echevarria
Photography​
Best in Category – "Lamp Person" – Rosalinda Martinez
Honorable Mention – "Pablo en Printemps" – Destiny Duprey
Sculpture
Best in Category – "Balance" – Finn Hoffner
Honorable Mention – "Flow" – Jacqueline Vega
Purchase Awards
Jordon Ziegler – " Reflect at Polytech" – Photography
Mya Baker – "Woman in Orange" – Photography
Jacqueline Vega – "Dog and Cock" – Foam Board
Ava Edmond – "Two Cuts of the Council" – Watercolor
Jennifer Lopez – "Goodnight Love" – Charcoal
Michael Gronholm – "Before I Close My Eyes" – Darkroom Print
Anyone interested in purchasing artwork may email nlozzel@polk.edu.