Sports Fan from Niagara Falls Has Deep Love for Eagles Athletics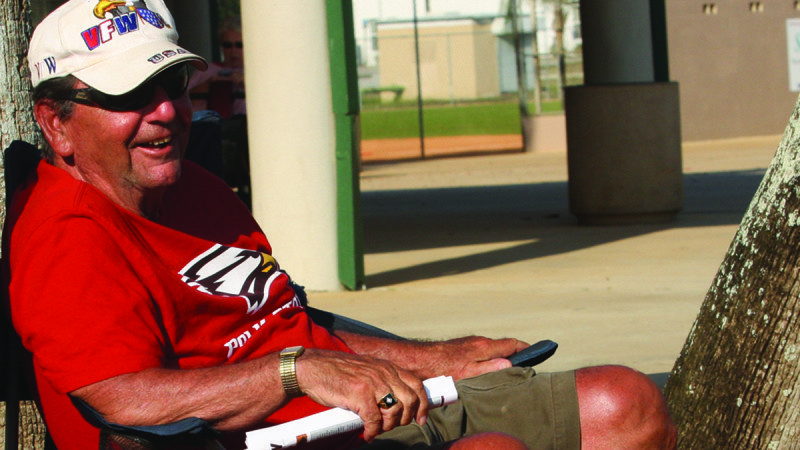 Herb Hull, 76, loves baseball.
Hull has watched his favorite New York Yankees play at Yankee Stadium.
He's visited the stadiums of the old days to watch past stars, such as Jackie Robinson and Sal Maglie of his hometown, Niagara Falls.
He's seen countless Niagara County Community College baseball, softball and basketball games.
He's taken in hundreds of Niagara Falls High School softball and baseball contests.
His passion is just as strong for the Polk State College Eagles.
While recently wintering in Winter Haven for a few months, Hull took in 52 games.
The snowbird is a fixture at Polk State College basketball, baseball and softball contests.
"It's my adopted school," he said. "I talk about it all the time. I brag about it a little bit."
He can be found at Eagle softball games, with his own chair embedded in the large planter located behind home plate at the DiamondPlex, or in the right corner of the deck at the baseball field or in the stands at basketball games.
Hull can almost always be seen wearing a Polk State shirt and his white VFW hat, checking out the action.
"I'm a sports nut," he said.
A child of the 1940's and '50s, the former Niagara Falls superintendent of streets and sanitation also saw players compete in the Industrial Independent League, as well as thousands of Niagara Falls High School and Niagara University games.
A loving uncle took him to games during the Major League "glory" years of the late 1940's and 50's in Cleveland, Pittsburgh and New York, as well as Buffalo Bills football games.
"In my neighborhood, nobody did that," he said.
He recalls seeing the Bob Kirkland — the first successful 7-foot pro basketball player — in 1945 when the Oklahoma Aggies played Canisius.
As a retiree, he plans his year around his teams.
He watches his hometown Niagara High School and Niagara Falls University basketball teams finish their basketball seasons in the winter.
In the summers, he watches the youth baseball games and collegiate summer league contests.
Some 12 years ago, Hull and his wife, Eleanor, starting wintering in Winter Haven.
A year or so later Hull learned of a Niagara Falls basketball player receiving a scholarship to Polk.
Living less than a mile from the College, Hull drove to Polk to see the product from his hometown.
"I walked in the gym and there he was," Hull said.
Hull met Polk State basketball coach Matt Furjanic and immediately became a regular fan, attending nearly every Polk State home game during his stay in Winter Haven.
Some four or five games into that first season, he met Polk State athletic director Bing Tyus.
"It's the people," Hull said. "I get to interact with a lot of people and I love baseball. I've been coming ever since. I enjoy it."
"You're a fan of the game first, then you get a feeling of it being your team," said Tyus, who gave Hull the athletic department's Fan Award a few years ago. "I think now he's a Polk fan."
Hull's love of the game is naturally deeper when the Polk team is successful.
"They've had some good players here," he said of the Polk State baseball team. "Last year's team was outstanding."
His relationship with the Polk State baseball and softball teams is bittersweet, though.
He jokes all his relationships are two years. [Editor's note: Although Polk State College is a four-year institution, its athletics programs compete in "JuCo" conferences. All student-athletes' eligibility at Polk expires after two years at the school.]
Plus, each year, his rental agreement causes Hull to drive north before the Eagles reach the postseason.
"I'd love to stay for the playoffs," he said.
Hull says Polk is his first choice when it comes to watching games, however, he'll take one in wherever it's convenient.
He's attended Cleveland Indian games when the team's spring home was in Winter Haven.
He's also seen RussMatt spring college tournament games here.
Hull's love of baseball knows no boundaries.
He even takes in South Florida State College contests, while Eleanor visits her sister in Avon Park.
"You can't beat a good baseball game," he said. "I enjoy watching baseball played here just as much as I loved going to the pros. I love a good college or high school game. I love the enthusiasm."