Scholarobotics Academy to Give High School Seniors Introduction to Robotic Surgery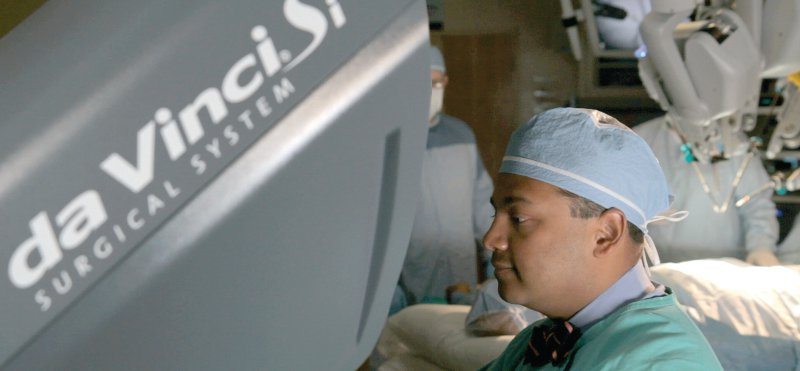 For many students, summer vacation can be a time of sloth-like laziness, the days measured in naps and TV shows.
Or, for participants in a new Polk State College program, it can be a time to earn college credit, learn cutting-edge technology — and play with a robot.
Through a partnership with Winter Haven Hospital, Polk State will offer the Scholarobotics Academy from June 25 to Aug. 8 to those entering their senior year of high school.
Participants in the program will complete a three-credit-hour course in medical terminology, learn from a leading robotic surgeon, and practice using a robotic operating system in a real-life operating room.
"This is really an unheard-of, once-in-a-lifetime opportunity," said Polk State Professor Suzanne Halverson.
Halverson will teach the medical-terminology portion of the program. Using a mix of classroom instruction and online work, she will teach participants the basics of medical terminology — the language that medical professionals use in identifying organs, diagnosing conditions and ordering treatments.
"Medical terminology is the universal language for healthcare professionals. Understanding the applications for medical terminology, such as word construction, operative procedures and medical documentation is imperative for effective communication amongst the medical team," Halverson said.
"Medical terminology is an excellent introductory course for high-school students interested in a career in medicine."
Halverson's students will also perform multiple dissections and build a three-dimensional clay model of the human body. The class will take place at Polk State Chain of Lakes Collegiate High School on the Winter Haven campus.
Participants will put what they learn from Halverson to real-life use as they study under Dr. Sijo Parekattil, director of robotic surgery and urology at Winter Haven Hospital. Parekattil is a board-certified urologist and robotic surgery specialist who has performed more than 400 robotic microsurgery procedures.
With the guidance of Parekattil and Dr. Ahmet Gudeloglu, a research fellow of robotic surgery, students will use the hospital's $2-million da Vinci Surgical system to build LEGO-brick structures and practice suturing techniques.
Parekattil said the Scholarobotics Academy offers the chance for participants to get an early introduction to a technology that is being used more and more frequently in the medical field.
"Robotic surgery is becoming more common and more applications for this technology are being developed every day. It represents the future trend of surgery," he said.
The da Vinci system is the only one of its kind, having been introduced in 1999. According to its maker, Intuitive Surgical Inc., 2,132 da Vinci systems have since been installed in 1,718 hospitals worldwide.
Students interested in participating in the Scholarobotics Academy must be registered in a dual-enrollment program at the College. An application is available at www.scholarobotics.org. There is a $25 registration fee.
The Scholarobotics Academy complements a broader initiative at the College to train operating room nurses and surgical technicians who assist in robot-assisted surgeries. The College's robot-assisted surgery credential, also offered in partnership with Winter Haven Hospital, combines online work and intensive, hands-on training also using Winter Haven Hospital's da Vinci system.  The first class of the credential program is scheduled to begin in August.
"Robot-assisted surgery is an incredible technology, and the students who participate in the Scholarobotics Academy will have an incredible experience as they learn about it from a first-hand perspective. The Scholarobotics program will give these students invaluable knowledge that will help them as they select and pursue their future careers. We at Polk State are very excited and proud to offer our local high school seniors this opportunity," said Polk State President Eileen Holden.
For more details, call Dawn Erickson at the Winter Haven Center for Urology and Robotics Institute at 863.293.1121, ext. 1465.