Ru caps legendary Polk State Volleyball career with jersey dedication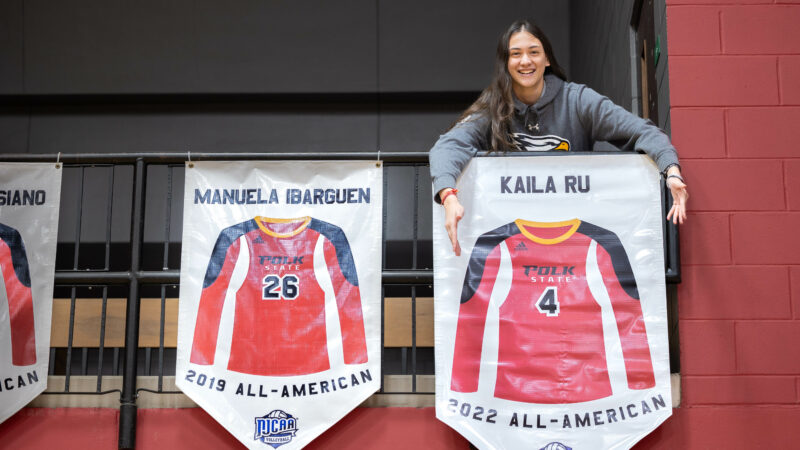 Kaila Ru is off to continue her college volleyball career at the NCAA Division I level, but in more ways than one, she'll always be at Polk State College.
Ru achieved Polk State Volleyball immortality this month when a replica of her jersey was placed above the stands at the Health Center on the Winter Haven Campus. The tradition began under Head Coach German Del Valle to honor players recognized as NJCAA All-Americans.
"It means a lot to me," Ru said. "That was my goal since I first got here. I'm grateful for all my teammates who helped make this happen. It's big."
This past season, Ru was named a second-team NJCAA All-American, becoming the first Polk State player to accomplish the feat since Manuela Ibarguen in 2019. A 6-foot-2 middle blocker from New Zealand, Ru was also recognized as a third-team All-American by the American Volleyball Coaches Association and an All-FCSAA selection.
"She knew she had to create for us to be successful and she came out and made it happen," Del Valle said. "Since the beginning, she's been a good learner. People see the games, but they don't always see what happens in practice and in the locker room. Kaila always helped us focus on what we needed to do to get better. She earned the respect of her teammates."
During a 2022 season in which Polk State knocked off five nationally ranked teams, Ru led the Eagles in several statistical categories, including total kills (241), kills per set (3.01), total blocks (60), and blocks per set (0.75). Her .376 hitting percentage ranked third nationally.
"I'm thankful for (Assistant Coach) Dayanna (Barbosa) and German," Ru added. "They pushed me to get here. I think Polk will always be a part of me. The people here and the hours of work we put in – those are things I'm never going to forget."
During the fall, Ru signed to play at Coastal Carolina University, an NCAA Division I school in Conway, S.C. Del Valle noted that Ru could have left to play Division I after last season but is happy she chose to spend a third year at Polk State where she served as a team captain this past season.
"She had options to go Division I last year, but she decided to stay here and try to win a national championship," Del Valle said. "We had some injuries, and the season didn't go the way we had hoped, but I'll always have tons of respect for the way she played and what she accomplished here."
For Ru, the jersey hanging over Polk State's home court is the icing on the cake after a season filled with individual accolades. In addition to all the postseason honors, Ru was also named FCSAA and National Offensive Player of the Week following a career-high 26-kill performance against Hillsborough Community College in October. Following graduation in May, Ru will join a Coastal Carolina program that finished 17-13 this past season and second in the Sun Belt Conference's East division.
"(At Coastal Carolina,) I felt like there were Polk vibes," Ru said about her decision to sign with the Chanticleers. "Talking with the coaches, it felt like a family. That's how it was for my entire time at Polk."