Retired Polk State Professor Publishes Book About Northwest Lakeland, Book Signing Planned for Monday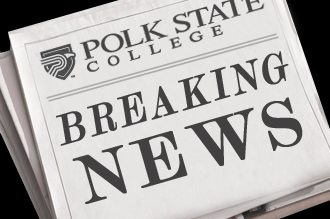 A retired Polk State College professor will discuss and sign copies of her first book during two events on Monday at Polk State College.
Yvonne McShay's book is a nearly two-year effort titled, "Our Lakeland: The Other End of Florida Avenue, Engaging Essays and Exceptional Stories about African Americans, Living Legends, from the Northwest Community of Lakeland."
McShay, who taught English at the College for 17 years, had long sought to document the rich personalities and history of Northwest Lakeland, an area she loosely defines as Providence Road east to Lakeland Hills Boulevard, and Memorial Boulevard to just south of Joker Marchant Stadium and Lakeland Square mall.
Shortly after she retired from the College in 2009, she began work on what became a four-section compilation of essays, profiles, stories, and interviews, all of which offer readers new perspective on an area they may have previously zipped by, taking little notice of on their way toI-4.
"I want to make people take a different view of this community. As Lakeland citizens, I think sometimes we limit ourselves and we don't embrace all of our city. But this community is part of who we all are as Lakeland residents," McShay said.
McShay will discuss and sign the book at upcoming events at Polk State, including:
Oct. 1, 11 a.m. to 12:15 p.m., and 6 to 8 p.m., LTB Art Gallery, Polk State Lakeland, 3425 Winter Lake Road.
Oct. 22, 6 to 8 p.m., Fine Arts Gallery, Polk State Winter Haven, 999 Ave. H N.E.
The book is $20 and is also available by contacting McShay at ymcshay@gmail.com.
Among the little-known stories McShay tells in the book is that of a woman who has raised 16 children, though none are hers biologically, supporting them through her wages as a school cafeteria worker.
"It started with her husband's nieces and nephews and just continued from there. She always said that if any kid came to her home and needed help, she wouldn't turn them away. All of her children have graduated from high school, three or four of them went on to college, and two have advanced degrees," McShay said.
Another part of the book discusses an African-American man with the last name Wilson, who decades ago sold vegetables off a horse-drawn buggy, eventually earning enough money to buy plots of land for each of hisseveral children. Many residents of Northwest Lakeland still refer to his property as Wilson's Quarters. McShay learned of the story through a grandchild of Wilson.
Not strictly limited geographically, McShay also profiles a woman who started an AME (African Methodist Episcopal) church in a storefront just south of Downtown Lakeland, a highly unusual location for a denomination that prefers more traditional gathering places.
Staying true to her roots as a teacher, McShay includes words of advice from her subjects to younger generations.
"These are the unsung heroes. These are not the names we hear every day," McShay said. "The book is about recognizing people we should honor, but don't."
McShay has also authored several professional articles, editorials, and a booklet titled "A Rainbow," and often organizes book discussions and lectures in her home in Northwest Lakeland.
McShay hopes her book inspires other writers to delve into the stories of Northwest Lakeland. They won't be sorry if they do, she said.
"The history of Northwest Lakeland needed to be documented and that's what I did. But I looked at just one slice of the community. There are lots of slices to that orange," she said.