Renowned Dallas Brass Coming to Polk State for Concert, Workshops with Students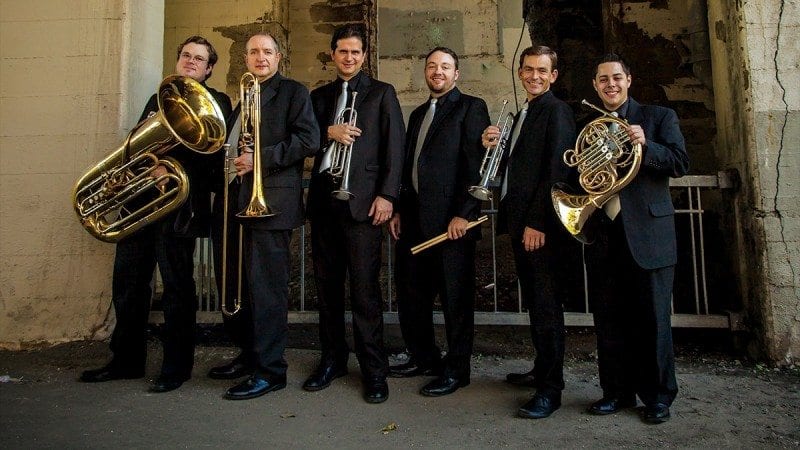 One of the country's most highly acclaimed musical ensembles will visit Polk State College in February to entertain audiences and, if all goes as planned, change a few students' lives, too.
"Dallas Brass is one of the top brass quintets in the world," said Polk State Director of Arts and Cultural Affairs Osubi Craig.
"To have artists of this caliber come to our campus to not only perform for the public, but also share their immense talents with our students — this is a rare and remarkable opportunity."
Dallas Brass has performed at the nation's most prestigious venues, including Carnegie Hall and the John F. Kennedy Center for the Performing Arts in Washington, D.C., as well as throughout Europe. The ensemble has also performed for presidents Gerald Ford and George H.W. Bush, and appeared on national TV.
When Dallas Brass isn't on stage, its members can usually be found in the classroom, helping young musicians hone their talents. Their outreach efforts have garnered praise from teachers across the country.
Founded by trombonist Michael Levine in 1983, Dallas Brass also includes Luis Miguel Araya and D.J. Barraclough on trumpets, Juan Berrios on horn, Paul Carlson on tuba, and Chris McWilliams on drums.
During their visit to Polk State, the group will do what they do best — teach and play.
"These guys are very receptive to talking to young musicians and offering them advice and encouragement," said Polk State Director of Bands Don West. "For the students, the chance to receive that advice and to interact with artists of this level, that is something very special."
West should know, because it wasn't too long ago that he was a novice trumpeter, who went to see Dallas Brass at his teacher's insistence and left the concert feeling more sure than ever that he wanted a career in music. He likened the experience to meeting celebrities or star athletes.
"For any young musician, being able to hear musicians of this level perform live, there's this 'wow' factor that just inspires you," said West, who first saw Dallas Brass perform when he was in high school during the early 1980s.
"That was one of the experiences that gave me something to aspire to and that helped solidify for me that music was what I wanted to do with my life."
West anticipates that his students will be similarly motivated by their own interactions with Dallas Brass.
"I think they're going to go back to the practice room and say to themselves, 'What do I have to do to get to that level?'" West said.
"I want them to realize that music is a journey. Just because they've reached one milestone, or enjoyed one moment of praise, or think they're the best for where they are in life right now, they can't rest on that. They have to keep pulling themselves forward."
West has organized masterclasses and clinics with the members of Dallas Brass that is open to not only Polk State band students, but all middle- and high-school, and college-level musicians. These events are scheduled for the following days and times at the Polk State Winter Haven Fine Arts Building, 999 Ave. H N.E., room WFA 129:
Feb. 15
10:30 a.m., rehearsal/clinic with Polk State Symphonic Band
2 p.m., masterclass
Feb. 16
10:30 a.m. masterclass
"The students are not just going to hear these musicians talk or play," West said. "The students are going to be the beneficiaries of their expertise and wisdom."
West added that the Dallas Brass visit is a perfect segue to his spring-semester plans to have his students perform in small ensembles.
"Professionally, the ability to play with both large and small ensembles in a variety of styles is a skill set that instrumentalists have to have. If you want to work or play outside an educational setting, you have to be able to play in a small group," West said.
"Playing in small or chamber ensembles also challenges musicians in different ways. There's a different level of responsibility put on the individuals. If you're not playing to the best of your abilities, it is going to be very obvious."
Dallas Brass' concert, which will also feature Polk State band students and select middle and high school students, is planned for 7 p.m. on Feb. 16 at the Polk State Winter Haven Fine Arts Theatre, 999 Ave. H N.E.  The cost of attendance is $10 for adults and $5 for students. For ticketing information, visit polk.edu/boxoffice.