Register Now for Summer Classes at Polk State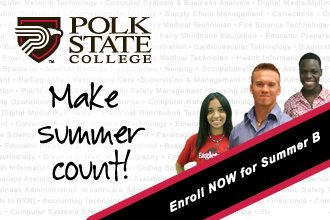 There is still time to take summer classes at Polk State College.
Registration for the College's Summer B session is now underway.
Students currently enrolled at the College may register online through the College's Passport. Prospective new students should first submit an online application to the College. After doing so, they will be scheduled for an orientation session, during which they will register for their first classes.
The College's complete, Steps to Admission guide provides students with information such as how to apply for financial aid, how to request transcripts, and when to schedule placement testing.
The College's online course catalog will help new students choose and plan a course of study.
Students are encouraged to register prior to the first day of class. Summer B classes begin June 25 and end Aug. 8.
Scholarships are available through the Polk State College Foundation's Summer 2012 Supplemental Program. The deadline to apply for scholarships is June 20.
For more financial aid information, students should contact Polk State's Student Financial Services department at 863.297.1004.
Polk State College serves more than 20,000 students on multiple campuses. It offers bachelor and associate degrees, as well as a range of certificate and workforce training options.