Polk's Shelton-Toney Delivers Keynote at Kissimmee Scholarship Presentation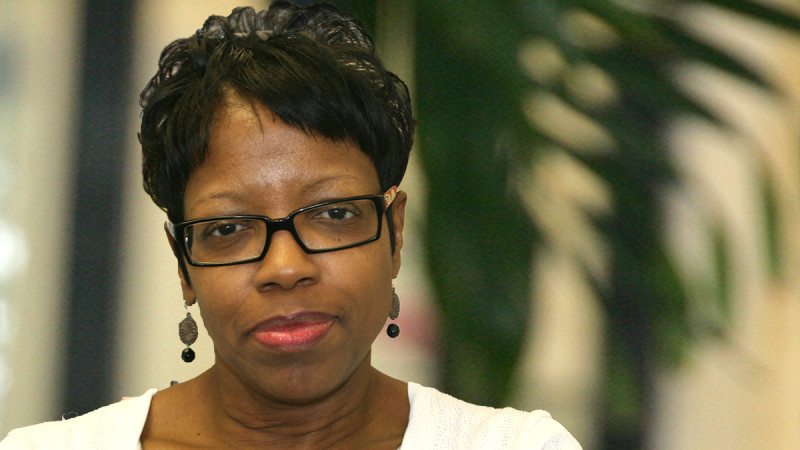 Polk State Veterans Services Coordinator Carole Shelton-Toney received thanks from students and parents alike on Sunday, after delivering a speech in which she advised youths to follow their dreams — but also get the education that will make those dreams come true.
"If you can see it, you can be it, but you have to start with that sturdy foundation," Shelton-Toney said during the Kissimmee-based Caribbean and Floridian Association's 21st Annual Education Awards at the Kissimmee Civic Center.
The Caribbean and Floridian Association Inc. (CAFA) is a nonprofit organization that was founded in 1992 to unite and benefit Floridians of Caribbean descent. Each year, it conducts fundraisers and other events to bestow scholarships to outstanding college-age students.
Polk State Student Casmore Shaw, a resident of Kissimmee who is preparing to start in the College's Bachelor of Applied Science in Supervision and Management program, serves as president of CAFA.
Shelton-Toney delivered the 2012 keynote address, and was so well received that Shaw asked her to return for this year's event.
Speaking before approximately 250 guests, Shelton-Toney encouraged the students to pursue their passions, but also be prudent as they begin their adult lives.
"If you're going away to college, my dad used to say you have to have a Plan A and a Plan B," Shelton-Toney said. "Today's college kids need a Plan C, D, and E, because you never know what's going to happen.
Shelton-Toney added that students headed off to college must be ready to succeed from the first day of classes.
"You better be in it to win it. If you're mediocre, college is going to be hard," she said. "The competition is steep.
"Be excellent. Don't get a C when you could have gotten a B."
In remarks meant for parents as well as students, Shelton-Toney said deciding on a course of study shouldn't be taken lightly.
"Make sure the degree your child is going to choose is going to be marketable," she said.
Shelton-Toney added a bit of personal advice before concluding her speech:
"Have an attitude of gratitude," she said. "I've been through some hiccups, but I'm grateful for all of them. You have to handle your problems with grace."
Shelton-Toney received a standing ovation from her audience, and for hours afterward, students and parents shook her hand and thanked her for her frank, realistic advice.
"The students were so receptive and appreciative of what she had to say," Shaw said. "She works at a college, so she has a unique perspective that is especially helpful to them at this point in their lives."
In her role as veterans services coordinator, Shelton-Toney acts as a liaison between the College and the U.S. Department of Veterans Affairs, helping students to navigate and receive their military education benefits.
Polk State College currently serves more than 400 student-veterans, and that number is growing at a rapid rate.