Polk's Massey Scores Big for United Way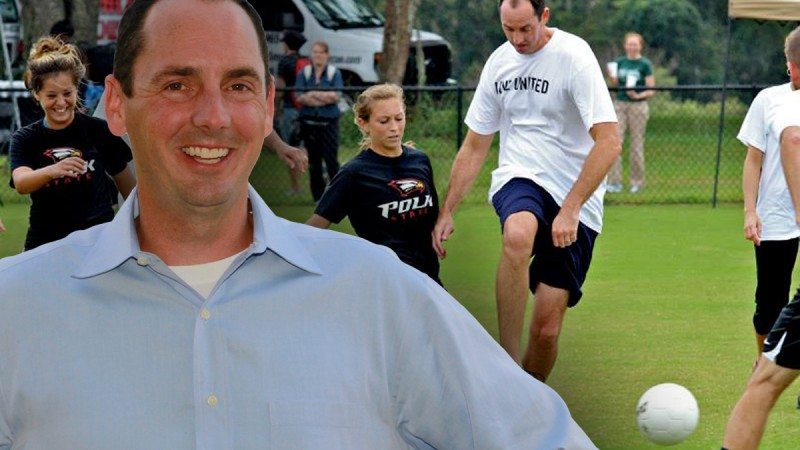 During Polk State's annual United Way soccer match last week, a star emerged.
History Professor Brad Massey, lanky and bookish, who speaks with fervor about topics such as post-industrial Tampa, also proved himself a master of the field.
Playing with his fellow faculty and staff members on a team commonly referred to as "the Geezers," Massey scored two goals against the College's women's soccer team.
They were the only two goals the Geezers would post during the noontime scrimmage last Wednesday. The final score was 6-2.
"It was the best feeling I've ever experienced," said Massey. "It was the capstone of my career."
Yes, Massey has a good sense of humor, too.
Joking aside, his performance during the game, part of the College's annual United Way fundraising campaign, has been a hot topic around campus.
Polk State Soccer Coach Steve Linamen said his players were certainly impressed.
"They expected to have a bunch of old faculty and staff running around out there, not really challenging him," he said. "But Brad put some pressure on them.
"It showed them that no matter how old you are or what you choose to do in life, you can still be athletic."
Massey, by the way, is 36. He hasn't played organized soccer since high school, but he does play beach volleyball.
Added teammate and Lakeland Dean of Students Reggie Webb:
"He's a beast on the field. His nickname now is, 'the scorer.'"
Stellar as Massey's performance was during the game, it wasn't totally unexpected. He has played in the match since it began four years ago, and he's scored one goal every year.
Except for 2012. Which he will never forget.
"It was drizzling and I didn't have cleats," he said. "It affected my performance."
Massey's two goals, in addition to making up for his 2012 disappointment, are also fitting given his deep support of United Way.
For the past two years, he has served as campus coordinator of Polk State Lakeland's United Way campaign, and he has long been a donor to the cause. The soccer game, played at Polk State Lakeland, raises money for the United Way through a gift basket raffle, but it is mostly about raising awareness among the College's student body.
Hitting the field is just another way for Massey to support the United Way and help it reach its own goals in helping the people of Polk County.
"The United Way benefits so many areas of our community, and supporting it really helps tie the College even more closely to the community it serves," he said.
Polk State College has long been a supporter of the United Way. Polk State President Eileen Holden in 2010 served as chairwoman of the agency's Pacesetter Campaign and is currently chairwoman of its executive committee. Polk State employees last year raised more than $30,000 for the organization. This year's campaign is currently underway, with the College aiming to raise more than $35,000.