Polk State's Voices of the People Concert Series Presents "Pieces En Concert: A Synesthetic Experience," Featuring Artist David McGee, Oct. 22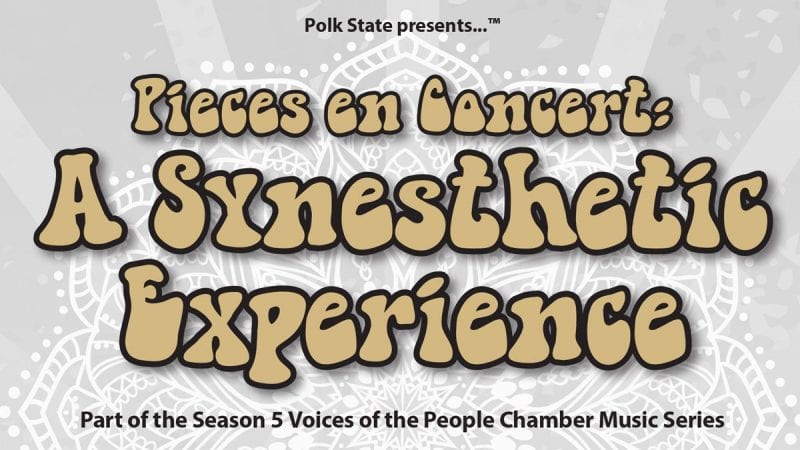 Polk State's Voices of the People concert series will continue its fifth season with "Pieces En Concert: A Synesthetic Experience," showcasing the talents of painter David McGee and cellist Derek Menchan.
"Voices of the People, first of all, is a celebration of the humanities," said Menchan, a humanities professor at Polk State and organizer of the concert series, about his pairing with McGee.
"The humanities are the arts: sculpture, painting, drama, dance, music, etc. We at Voices want our audiences, always, to be changed, ideally for the better, by the transformative power that resides in music and in the arts, in general. When we are exposed to works of a great artist, of any genre, we are transported to the very heart, the very essence of whatever concept or idealistic notion by which the artist was originally captivated. In turn, we will be captivated as well."
McGee, who was previously featured in Voices of the People in 2013, has given numerous solo exhibitions, and his work is held in the collections of Houston's Menil Collection, Museum of Fine Arts Houston, Rhode Island School of Design Museum, Dallas Museum of Art, and Harvard University.
"David is influenced by a movement in art called Dada, which is an ironic, seemingly nonsensical approach to creation, fed by the roiling, absurd, and explosive world that was Europe and America around the time of World War I. The name 'Dali' should come to mind," Menchan said.
"David will be speaking to what moved him to create the provocative and moving works he did, and he will also be creating a verbal soundscape to complement the music I will be playing. So, simultaneously, we will be experiencing music that influenced David to create the images we'll see — and the space into which his works might transport us — while his spoken word element will complement, quite literally, the music that complements his works. This is why the event is properly called a sensory crossover experience, or synesthetic. Music, spoken word, written words, and images will come together in one presentation."
Menchan elaborated on the music he will perform for the event:
"I will be playing what we call incidental music — music that is uniquely selected and married to the specific images McGee will be sharing with us. This music will also represent who David McGee, as a human, is; the influences that flow through him, and thus, his creations. This music will range from Bach, Vivaldi and other Baroque works, to Beethoven and classical music, to what we call neoclassical pieces, to the works of explosive and fiery bebop artists like Thelonious Monk, Charlie Parker and others," he said.
In addition to thought-provoking entertainment, McGee's visit to Polk County, Menchan said, is intended to provide inspiration to emerging artists. While in Polk County, McGee will visit students at Harrison School of the Arts and will speak at a pre-concert event at Polk State.
"Here is a golden opportunity for students to see a shining example of what can happen to talented individuals who study hard and work even harder to chase that elusive commodity known as success," Menchan said. "David is wildly successful — and has been for decades. He represents what can be achieved, and that is what education is ultimately about — instructionally ushering our pupils toward success, by equipping them with the tools with which to achieve that success. Community members who love the arts, and who love painting especially, can come and see and hear, firsthand, a true pioneer and leader in the modern world of artistic creation."
"Pieces En Concert: A Synesthetic Experience" is free and open to the public, but a $5 donation is suggested. It will take place at 7 p.m. on Oct. 22 at the Polk State Winter Haven Fine Arts Theatre, 999 Ave. H N.E.
McGee will also be featured in a pre-concert event, "Dada and David: The Elasticity of Meaning," an informal presentation about his art followed by a question-and-answer session. That event will take place at 2 p.m. on Friday, Oct. 21, at the Polk State Winter Haven Student Center, WST 126. It is free to attend. Smoothies will be served.
For more information, visit polk.edu/boxoffice, call 863.298.6883, or email LWAC@polk.edu.