Polk State's Voices of the People Concert Series Begins Fifth Season on Sept. 17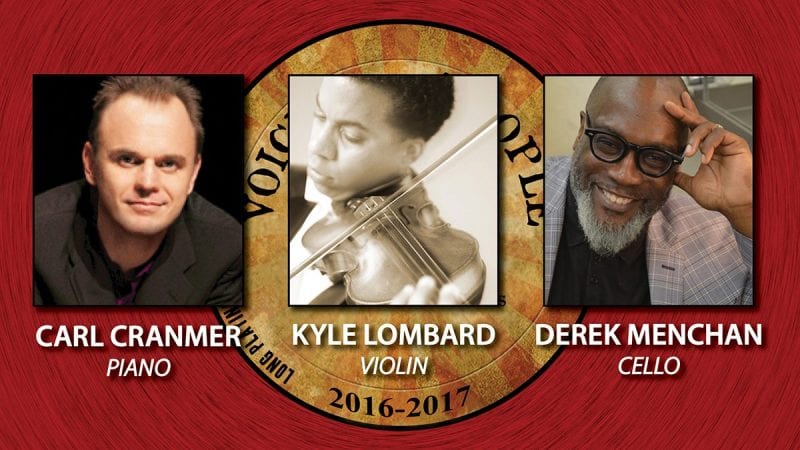 Polk State's Voices of the People concert series will present "Eloquence" at 7 p.m. on Sept. 17 at the Polk State Lake Wales Arts Center, 1099 State Road 60 East.
"Eloquence" marks the beginning of Voices of the People's fifth season, which has been dubbed "Realization."
"Voices of the People has always had, as a goal, a progressive and consistent intensity in its offerings," said Derek Menchan, a Humanities professor and organizer of Voices of the People.
"We are now at tier five, 'Realization,' following seasons one through four: 'An Affair for the Common Man,' 'Concurrences,' 'Transcendence,' and our 'Fantastic Fourth' season. The intensity culminated last year in season four's sheer size — 12 concerts. This season will feature a subtle intensity, emanating from the intellectual prowess of the artists featured and the material presented."
Performing during "Eloquence" will be pianist Carl Cranmer, violinist Kyle Lombard, and Menchan, who is also a cellist.
Cranmer made his debut with the Philadelphia Orchestra when he was just 9, and has since given solo recitals in Europe, Asia, and North America. He holds two degrees from The Juilliard School, and is now an assistant professor of piano at West Chester University.
Lombard earned a performer's certificate from Indiana University and his master's degree from Yale University. At 16, he performed with the Kansas City Symphony, and has since performed throughout Europe, the Middle East, and the United States. He is currently teaching at Washington University in St. Louis and performing with the St. Louis Symphony.
Menchan has a master's degree from the Manhattan School of Music and was a solo cellist with numerous orchestras and ensembles.
"Eloquence" will feature the music of composers Johannes Brahms and Franz Schubert, both of whom were able to communicate ideas through music with great clarity, or eloquence, hence the name of the concert, Menchan said.
Brahms, Menchan continued, was "the musical heir apparent of Beethoven, another super-genius of the musical titan pantheon." Beethoven's music will also be included in the "Eloquence" repertoire.
Voices of the People, Mencan said, was created to give Polk County audiences opportunities to enjoy chamber music performed by world-class musicians — and with "Eloquence" the series will more than fulfill that promise.
"(Cranmer and Lombard) are two of the most formidable musicians I know. They combine the rare mix of great power and dynamism with an amazing sensitivity and ability to communicate and get to the essence of the music, no matter the genre or era. Such, then, is their collective eloquence," Menchan said.
"Together, our trio possesses a volcanic undercurrent running through all that we play, giving our ensemble a big, noble, and expansive sound, which will be wonderfully suited for the pieces we'll play that night."
"Eloquence" will be free and open to the public, but any donations collected will go to benefit the College's Philosophy Club, which created Voices of the People.
For more information, visit polk.edu/boxoffice, call 863.298.6883, or email LWAC@polk.edu.