Polk State's Rhodes Part of National Fellowship Program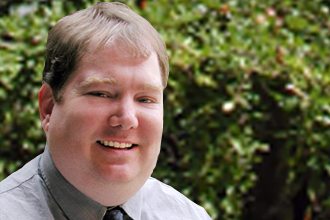 Polk State Math Professor Jim Rhodes is participating in the American Mathematical Association of Two-Year Colleges' Project ACCESS program, a fellowship for professionals in their first years of teaching math on the college level.
Rhodes has worked for Polk State since 1991, but only recently joined the Mathematics Department on the Lakeland campus as a full-time faculty member.
Project ACCESS is for educators in their first, second or third year of teaching math to college students. It is intended to help new mathematics faculty members become more effective teachers and active members of the broader mathematics community. The program requires a two-year commitment and culminates with a research project presentation.
There are 25 members of Project ACCESS' current cohort, but Rhodes is the only representative from Florida.
Rhodes and his fellow cohort members attended specialized presentations at last year's national AMATYC conference in Jacksonville, and this year they will present their projects at the conference in Anaheim, Calif.
"Project ACCESS is a great way to develop professionally and create professional bonds," he said.
Rhodes began working at Polk State College in 1991 as a part-time employee in the library on the Winter Haven campus, a position he held for four years before taking on a full-time job in Instructional Technology. He taught math as an adjunct instructor for 10 years before becoming a full-time faculty member in 2011.
Rhodes is also active in Polk State's Faculty Senate and represents the College on a statewide level as the newsletter editor for the Florida Two-Year College Mathematics Association.