Polk State's Public Safety Institute Continues Its Streak of Perfect Audits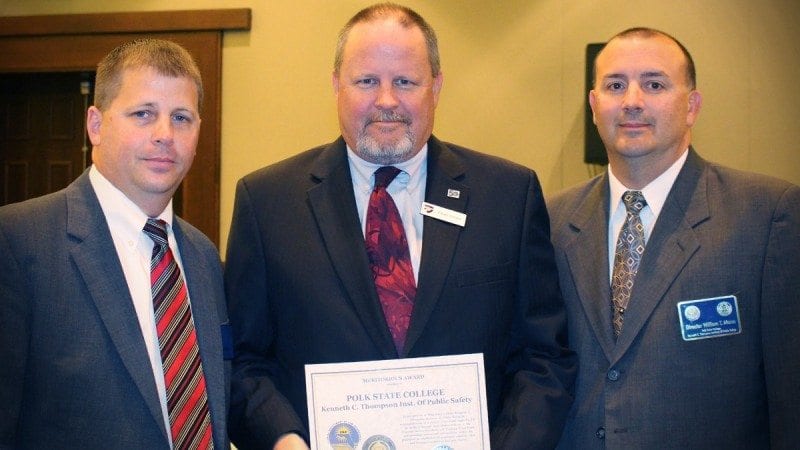 For the fourth consecutive time, Polk State College's Kenneth C. Thompson Institute of Public Safety has received a perfect audit from the state.
The Florida Department of Law Enforcement, through its Criminal Justice Standards and Training Commission, regularly inspects all 40 of Florida's criminal justice training academies. During the weeklong audits, FDLE representatives travel to each academy, delving into expenditures, records and procedures, instructor certifications, and adherence to other requirements.
Polk State's Institute received perfect marks during the September audit, and received a certificate for the achievement earlier this month.
Polk County Sheriff Grady Judd congratulated the Institute for extending its streak of perfect audits.
"I am very proud of the men and women who have worked so hard to again receive a perfect audit from the Florida Criminal Justice Standards and Training Commission. The Polk State Kenneth C. Thompson Institute of Public Safety team holds themselves to the highest possible standards, so that they can educate and produce some of the best law enforcement officer candidates in the nation. We congratulate the Institute staff for their ongoing excellent work and this prestigious achievement," Judd said.
The Institute has received perfect audits from FDLE since 2006. Because its reviews have been flawless, the Institute is audited only every two years; sites that do not receive perfect reviews are audited annually.
The audit report shows that the CJSTC recommended no actions to improve the Institute's operations, including delivery of Trust Fund training, which includes advanced and specialized classes for law enforcement personnel that are paid for through state funds, as well as delivery of basic training for new recruits. The Polk State Institute checked out perfectly in all categories and subcategories, including expenditures of state funds, certifications held by instructors, recordkeeping of student participation and performance, and classroom and training facilities.
"You name it, they go through it," said Polk County Sheriff's Capt. Bill Mann, who is also the director of the Polk State Institute.
"What this says is two things: We are doing what we are supposed to be doing, and we are good stewards of taxpayer money."
The recent audit looked at fiscal year 2012-13, during which the Institute delivered more than 30 advanced or specialized training courses and provided five academy programs for approximately 100 students.
The work that goes into achieving perfect audits from the FDLE translates to superior performance in other areas, Mann said. For instance, during the same time period of the audit, 96 percent of Institute recruits passed the CJSTC State Officer Certification Exam, the third highest rate among the state's 40 academies and better than the overall passage rate of 87 percent.
Also, the Institute is the first training academy of its kind in the nation to receive the Accredited with Excellence distinction from the Commission on Accreditation for Law Enforcement Agencies (CALEA).
Polk State President Eileen Holden said:
"After four straight perfect audits from the FDLE and Accreditation with Excellence from CALEA, it's pretty clear Polk State is running a world-class public safety training institute. We love all these accolades, of course, but what the Polk State Kenneth C. Thompson Institute of Public Safety takes the most pride in is providing high-caliber law enforcement professionals who put their lives on the line every day to protect this county. That's what matters," she said.
Mann credited Polk's continued streak of perfect audits to the Institute's program coordinators and administrative assistants, as well as the College's business office.
In addition to training provided through the Polk State Kenneth C. Thompson Institute of Public Safety, Polk State Public Safety offers associate's and bachelor's degrees in Criminal Justice, as well as training and degrees in Emergency Medical Services and Fire Science Technology.