Polk State's Physical Therapist Assistant Program: Worth the Wait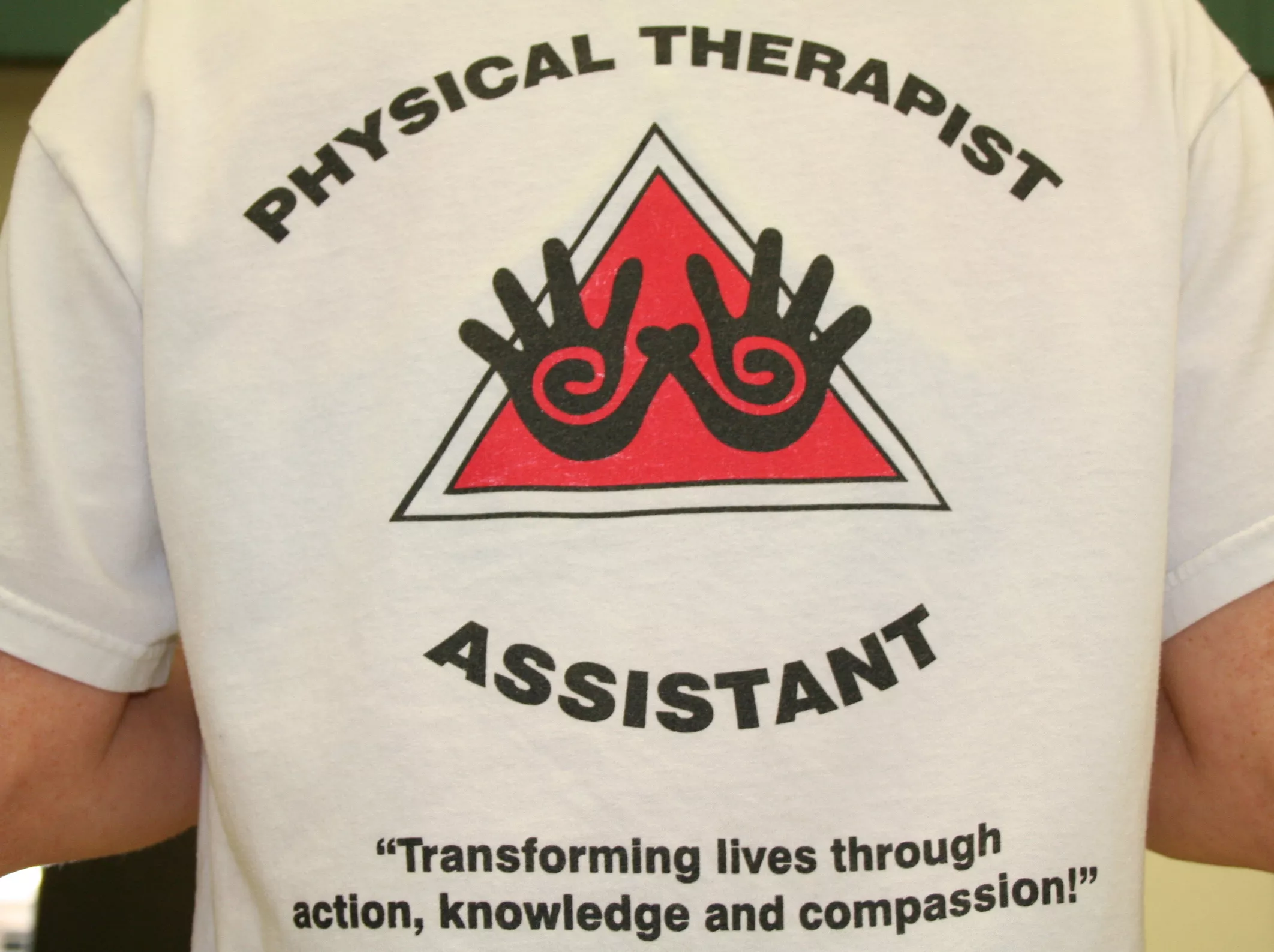 Fifteen years ago, Lakeland resident Robyn McDonald was injured in a car accident, leaving her body wracked with pain and requiring her to undergo months of physical therapy — an experience that affected her on a level far deeper than the musculoskeletal.
"My physical therapist saved me," she said, recalling the small gains her body made week by week.
McDonald recovered, her interest in physical therapy grew, and when the financial crisis of recent years ended her banking career, she put her name on the waiting list for Polk State's Physical Therapist Assistant degree program.
Two years passed before she was admitted to her first class — but that was fine by her.
"This program was something I really wanted to do, so the time was worth it," said McDonald, who will graduate next year.
McDonald's willingness to wait for admission to the College's PTA program is not unusual. The program consistently has a waiting list dozens of names long, and more students are getting in line all the time, said PTA Program Director Nelson Marquez.
"This is a program that changes people's lives, allowing them to start a career in a high-demand field. That's something worth waiting for," he said.
PTAs work one-on-one with patients, delivering the treatments prescribed by physical therapists to relieve pain and restore function. Treatments may include exercise, massage, bandaging, therapeutic ultrasound or the use of heat, cold or electricity.
"As a physical therapist, I call upon a PTA to carry out the treatment and the PTA reports back to me on the patient's progress," said Marquez. "That allows me as the physical therapist to move on to other patients and duties while the physical therapist assistant is treating patients I've evaluated."
The PTA field is booming, accounting for part of the Polk State program's success. According to the Bureau of Labor Statistics, in response to the nation's growing elderly population, employment of physical therapist assistants will grow by 46 percent through 2020, far higher than the 14 percent average growth rate expected for all other occupations. In 2010, the median annual wage of PTAs was $50,000, the BLS reports.
However, national employment trends aside, students select Polk State's PTA program — and wait on that list — because it is among the strongest in the state. Consider the following:
Between 2009 and 2011, approximately 89 percent of students who began the Polk State program completed it, the highest retention rate among similar-sized programs in the state.
From 2008 to 2010, PTA students at the College passed the national licensure exam at an average rate of 94 percent, exceeding the national average.
Since the program began 18 years ago, graduate surveys have shown that 100 percent of students who complete the program and pass the national licensure exam are employed in the field within six months of graduation.
Even more telling, however, is the reaction of employers when asked to describe Polk's PTA graduates. They use adjectives such as "well-rounded," "compassionate," "ready" and "professional."
"Polk State PTA students have imagination.  They don't come to work thinking that the same exercise regimens will work for everyone, like a recipe from a book. They look at patients as individuals and think outside the box. In this profession, we have to be creative all the time, and Polk State students have that covered," said Marco Poblete, a physical therapist and rehabilitation director at Life Care Center in Winter Haven.
In the past 12 years, Poblete said he has trained numerous Polk State students and gone on to hire seven as full-time employees.
Mike Ryan, physical therapist and owner of Leading Edge Physical Therapy, with locations in Winter Haven and Lakeland, hires exclusively from Polk State, with five graduates currently on the payroll.
"I've hired five graduates from the program, that's a pretty strong testimonial. I'm very pleased with the quality of the students who graduate from the program. Their preparation is excellent and they are motivated to learn the profession," he said.
Marquez attributes the program's success to its professional training approach.
Before even being admitted to the program, students must complete 50 observation hours in a variety of clinical settings, a requirement more stringent than any of the programs Marquez has seen in his more than 20 years of experience.
Through the observations, the PTA program weeds out those who aren't completely certain the field is for them — if a student is uncomfortable with bandaging wounds, for instance, it's better for them to realize that earlier rather than later.
"That allows only the people who are meant to be PTAs to get into the program versus those who may be prospecting the field," Marquez said. "We get a commitment from students early on that this is what they want to do."
Because of those observations, which inevitably do sway some students not to proceed with the program, the wait time for aspiring PTA program students varies, Marquez explained. The PTA program, like other limited-access Health Sciences degrees at the College, accepts only a certain number of students each year — in this case 24. With the cap, the program can balance its enrollment against the number of available sites for clinical training. In addition to observation hours, students must have a 2.0 grade-point average and complete three prerequisite courses before they are eligible to enter the program.
When the wait for new PTA students is over, they are immediately thrust into a professional environment, Marquez said.
They receive an "employee manual" outlining program requirements on everything from attendance to dress code to the use of cell phones during class; sign an "employment contract" agreeing to meet the program's expectations; and have regular "employee evaluations" of their progress, which place particular emphasis on professional behavior above and beyond tests and quizzes. For instance, students who will be late or must miss a class are required to call their instructor beforehand — just like an employee working a nine-to-five. Students who don't follow the procedures of the program, just like employees in the real world, receive verbal then written warnings.
Holding students accountable is a team of instructors with decades of real-world experience between them, including Marquez, who has been with the program since it began 18 years ago, Program Coordinator Rosa Gonzalez and Clinical Education Coordinator Shannon Ryals, a 1998 Polk State grad.
"The framework of the program is to make the students buy in. We communicate to the students that we operate like a workplace. They are the employees and their job is to be a good student," Marquez said.
In transforming students to professional PTAs, Marquez explained, the program emphasizes community service. Students volunteer with the United Way and other causes, and for years have staged the haunted house at Polk State's annual FallFest as a way to connect with the community beyond their studies.
"Our students are heavily involved in service learning and community service. Through this they learn the value of teamwork and how working together they can achieve bigger and better things," Marquez said.
And so, with the knowledge that Polk's PTA program will help them achieve those "bigger and better things," students keep adding their names to the wait list, dismissing the time as a small inconvenience in the long run of their future careers. As Helen Johnson, a second-year PTA student from Clermont, explained:
"I've wanted to do this for a long time. This is an organized, established program and I won't go into debt doing it. For me, there really wasn't another option."
Polk State Health Sciences includes programs in Cardiovascular Technology, Diagnostic Medical Sonography, Emergency Medical Services, Nursing, Occupational Therapy Assistant, Radiography and Respiratory Care. Polk State's Health Sciences students regularly outperform their peers in the state and nation on required licensing exams.