Polk State's Peter Preston: A Man of Many Identities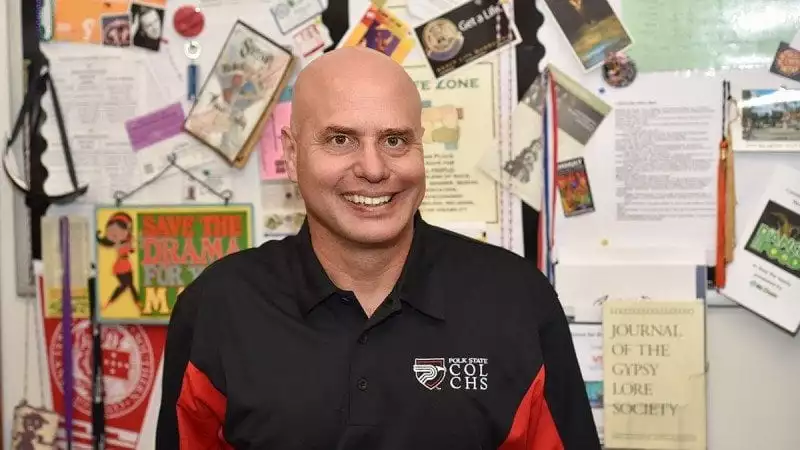 Peter Preston is a ____________.
Here at Polk State College, most of us would immediately fill in the blank with "guidance counselor at Polk State Chain of Lakes Collegiate High School."
Very few of us know the many other labels that could just as perfectly complete the sentence. Like musician, academic team coach, Gypsy, and city commissioner.
Let's explore the many identities of Peter Preston in that order.
Guidance Counselor
Like so many of us, Preston didn't arrive at his current position by following a direct, perfectly calculated plan.
He earned his bachelor's degree in English literature from Stetson University in 1990, and then moved to Gainesville to pursue an engineering degree at the University of Florida.
"It was a purely intellectual pursuit," he said. "I had a BA in English Lit and wanted to exercise my left brain by doing math."
Preston made it through a rigorous battery of prerequisites, including Calculus and Differential Equations, but no matter how well he did in his engineering studies, it was the students he encountered as a substitute teacher that he couldn't get out of his head.
"I was a substitute in charge of in-school suspension, so my job was basically to babysit," Preston said. "I couldn't take just sitting there, so I would get all the students together in a circle and basically start counseling them. We would talk about how they had gotten into suspension and what they could have done differently. It was neat to see the same kids around school and have them say, 'Hey, Mr. Preston, I haven't been suspended in weeks.'"
In 1993, Preston packed away his engineering textbooks and went to work as a foster care counselor at the Department of Children and Families.
His job was to, more or less, serve as a fill-in parent for as many as 60 kids at a time. He visited them at their foster homes to make sure they were safe, being cared for, and relatively happy. He met with their doctors and teachers. He represented them in court proceedings. Sometimes he just listened to their problems.
"The whole time, of course, I was working to either get them back with their natural parents or to get them adopted," Preston said. "I always felt like the best place was with the natural parent, and a lot of times, that's where the kids ended up."
Most people don't last long as foster care caseworkers in Florida — in 2014, the Florida Times-Union reported that the average turnover rate among caseworkers in the state is 37 percent. Preston, however, managed to stay in the system for nine years, helping kids in counties across Central Florida until 2002.
By then fully committed to making counseling a career, Preston returned to school to earn a master's degree in educational guidance from the University of South Florida in 2003, and a master of mental health counseling, also from USF, a year later.
Preston set his sights on becoming a high school guidance counselor, but he had to work his way up. To the classroom he went, first teaching special education at a Hardee County elementary school, then science, English and gifted classes at the middle-school level, and finally Advanced Placement psychology, debate and ACT/SAT prep at the high-school level.
With his dues finally paid, Preston was hired as a guidance counselor at Hardee High School in 2005. He joined the staff at Polk State Chain of Lakes Collegiate in 2012, shortly after completing his doctorate in leadership and higher education at Barry University.
"Once I got my PhD, I wanted to move into higher education, but I didn't have any experience," he said. "Polk State Chain of Lakes was just a great move, because it is high-school guidance, but also higher ed."
In his current job, he helps students build their schedules, plan for the next level of education, and solve any number of problems — personal, educational, etc. — that arise along the way.
"Dr. Preston has knowledge on many subjects and encourages, by example, the advantages of a well-rounded education that includes the arts," said Polk State Chain of Lakes Collegiate High School Principal Bridget Fetter.
Musician
One thing that helps Preston make the initial, vital connections with students at Polk State Chain of Lakes Collegiate is his love for music.
It's not unusual for Preston, a fan of music old and new, to recognize the band names splashed on students' T-shirts, or for students to notice one of the albums displayed in his office, and for conversations like this to follow:
Student: You like (insert band name here)?
Preston: I do. Did you know I'm in a band?
Student: No way. That's so cool.
From there, students, naturally, want to know more. So Preston tells them.
He's always loved music. Growing up in West Palm Beach, he loved listening to reggae, punk, ska, rock, and alt-country, among other genres.
While in Gainesville, he joined several locally renowned bands and started developing his on-stage persona.
When he left Gainesville for Hardee County, Preston kept right on playing, solo for a while, before joining up with two buddies to form Zen Fuse Box. Preston is the lead vocalist, but he's also skilled on harmonica and guitar.
The band's style, as a review posted to its website accurately puts it, cuts a "very wide swath of musical styles." It's rock. It's punk. It's ska. On some tracks, there are hints of techno.
Perhaps because its style is so unlike anything else, Zen Fuse Box has achieved an enviable level of success. The band is in the process of cutting its third album, a collection of covers as varied as "That's Not My Name" by the The Ting Tings and "Honky Tonk Women" by The Rolling Stones. A few years back, one of its songs, "Roses Red," was played on "Amazing Radio," an NPR-style program in the United Kingdom.
Academic Team Coach
Back in his early days of public education, Preston was tapped to coach Hardee High School's academic team, which turned out to be a pretty good fit, considering he led the team to the state championship in 2004, 2006, 2007 and 2008.
With Preston as coach, students from Hardee competed at the national level in locations such as Chicago and Dallas. They also got to meet Ken Jennings, who won money and fame for his six-month win streak on "Jeopardy!" in 2004.
"I loved taking these really talented kids, who had never had an outlet for their intellectual curiosity, and taking them to places like Chicago, where we toured the Art Institute of Chicago," he said. "I had kids who wanted to go there for school, and I was able to help them get there to see it for themselves. It was such a great experience."
When he came to Polk State Chain of Lakes Collegiate, Preston set about beginning a new team, and just like in Hardee, it didn't take him long to be successful. Earlier this year, the team won the Polk County High School Academic Tournament.
All four members of the Polk State Chain of Lakes team won $500 scholarships from the Polk Education Foundation, and two members, Bradley Denault of Polk City and Julia Jordan of Auburndale, were selected to compete on the Polk County All-Star team at the state competition in April. As coach of the winning county team, Preston coached the All-Star team.
"What stands out for me is that Dr. Preston always cared about me and my fellow comrades as people first," said Denault,  who graduated from Polk State Chain of Lakes in May and is continuing his education at Florida Southern College.
"He would level with us on a personal level and tell us that no matter what happened in the competition, what mattered first and foremost was the members of the team as people."
Gypsy
Growing up, Preston had always been told that his maternal grandfather was Czechoslovakian. As Preston grew older and began studying his ancestry, however, he discovered his roots were not Czechoslovakian. In fact, Preston realized, he is a full-blooded Gypsy.
Many people don't know much about Gypsies beyond crystal balls, tarot cards, and maybe a few episodes of "My Big Fat Gypsy Wedding," so here are the quick facts: The term "Gypsy" is actually a term used to refer to members of the Romani ethnic group. The Romani people originated in India, but throughout history have migrated all over the world, often to escape persecution.
"Once I figured it out, a lot of things started falling into place," Preston said.
For instance, he recalled once asking his grandfather to help him learn how to read tarot cards. The grandfather responded, those are for "gadjos," which is the term Romani people use to describe non-Romanis.
"Also, my family loves music. I grew up thinking it was typical to break into song and dance," he said. "Also typical of Gypsies, we don't care much for material wealth."
Will the Real Peter Preston Please Stand Up?
For all his official titles and roles, Preston — who also serves as a Wauchula city commissioner — says if he had to pick one descriptor to complete the first sentence of this story, it would be "student."
"I just really love information and knowledge," he said. "I'm constantly wanting to learn more."
Polk State College operates three public charter high schools, including Polk State Chain of Lakes Collegiate in Winter Haven, Polk State Lakeland Gateway to College Collegiate, and Polk State Lakeland Collegiate. All three high schools allow students to fulfill requirements for their diplomas while also earning college credits.