Polk State's Newly Formed Lakeland Cabaret to Debut Oct. 4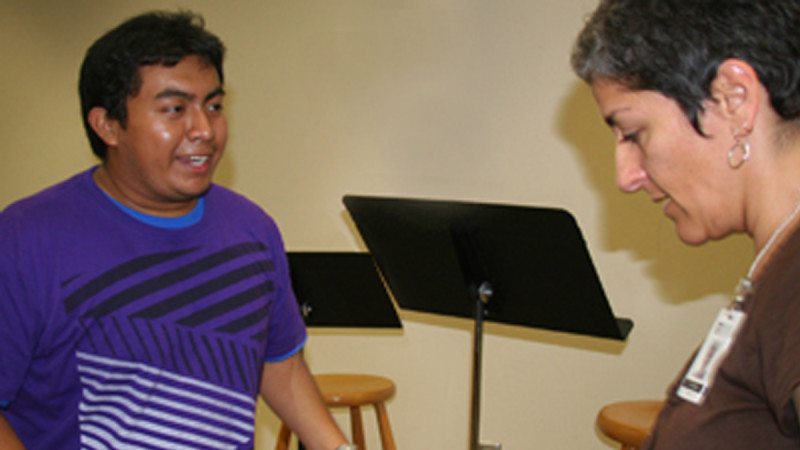 In a nondescript classroom on the Lakeland campus, a small handful of students and their instructor stand amid rows of desks, rehearsing lines, fine-tuning choreography, and mentally arranging the stage for an upcoming performance.
It's a modest scene, but also a bit of Polk State College history in the making.
These students, led by Polk State adjunct professor Ilene Fins, are the first performers in the newly established Polk State Lakeland Cabaret. For the last seven weeks, they've been preparing for their debut show, "Polk State…See? You and Me, Diversity Speakeasy," planned for Oct. 4 at 7:30 p.m. in the Lakeland Student Center.
Based on the Winter Haven campus, Polk State Theatre has been on an upward trajectory for years, attracting increasing numbers of scholarship students who are staging more complex shows than ever before in the program's history.
The ultimate plan, Polk State Speech and Theatre Professor Paul Carbonell explained, is to spread that growth between the College's two campuses, and Lakeland Cabaret is a significant step in that direction.
"We're trying to create more artists. If because of Lakeland Cabaret, a few people come see a show and have it in their mind that they could take theatre classes on the campus, then we've established that foothold for a theatre presence," he said.
Students who will perform in Lakeland Cabaret are enrolled in Theatrical Production, a new offering on the Lakeland campus taught by Ilene Fins, who holds a Master of Fine Arts from the University of North Carolina at Greensboro and whose local teaching experience includes seven years at Harrison School for the Arts. The seven-week class is dedicated solely to planning, rehearsing and performing a show.
"This is what you live for as a theatre artist, to create theatre where there hasn't been any," Fins said.
"Diversity Speakeasy" will include a performance of "Being Wrong in Purgatory," a play written by a former student of Fins' in which a teenager chokes on a toothpick. While in purgatory, he meets a 20-year-old surfer and a 70-year-old man who impart upon him the importance of every day one has on earth. The teen returns to life, but this time with a more appreciative outlook.
The night will also include student Eric Ramirez performing a combination of merengue and reggaeton, as well as a line-dance, to represent the College's diverse population; a musical performance by student Amelia Marler; and a modern dance depicting the life of a Polk State student, from the stress of exams to the sense of relief that follows test day.
The night's "Speakeasy" theme will come to life with flickering lights, round tables and the serving of "mocktails." Attendance is free and there will also be free food. Attendees should use the password "Free" to enter the performance.
Fins said it has been a thrilling experience to watch her students tackle the project and commit to bringing it to life. Along the way, she said, she's seen them acquire a new appreciation for performing arts.
"I've seen an increase in confidence in performing and speaking. The students have been fearless and now they'll get the rewards of that," she said.
Lakeland Cabaret's second performance will be "The Poe Project: A Midnight Dreary," dramatic readings of the work of Edgar Allan Poe. It is planned for Nov. 29 at 7:30 p.m. at the Lakeland Student Center and will also be free.