Polk State's New Robotic Surgery Credential Now Accepting Participants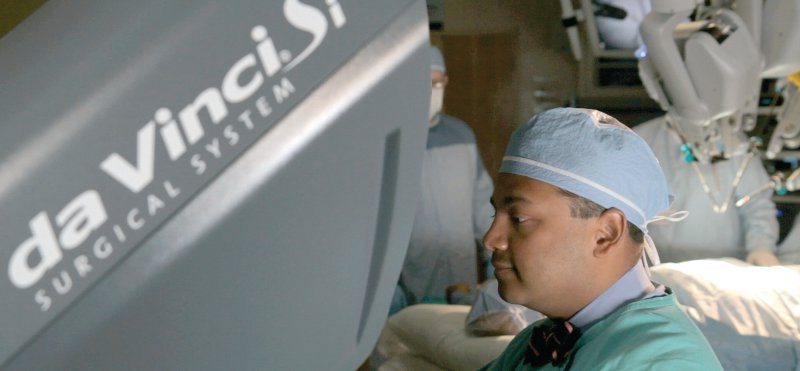 Polk State College is now accepting participants to the first session of its Robotic Surgery Credential Program, a program unlike any other in the world.
"This is truly a unique opportunity. Nothing else like it exists," said Dr. Sijo Parekattil, director of urology and robotic surgery at Winter Haven Hospital, who is also serving as the director of the Polk State Robotic Surgery Credential Program.
Polk State's Robotic Surgery Credential Program for the first time establishes formalized training for licensed registered nurses and technicians who participate in robot-assisted surgeries, filling an education gap that has grown more pronounced with the rise of robot-assisted surgery.
"There is a lot of emphasis on training the surgeons who do robotic procedures, but not for the nurses and technicians. For every surgeon in a robotic procedure, there are five or six members of the operating room staff. This is the first step in training all the members of the team," Parekattil said.
The Polk State Robotic Surgery Credential Program mixes online study and hands-on experience with Winter Haven Hospital's da Vinci Surgical System. After participants register, they will receive information on how to complete online modules, which include training videos created by Parekattil and members of his surgical staff.
The hands-on portion of the first session will take place Aug. 10-12 at Winter Haven Hospital.
During the weekend, participants will observe Parekattil and his team perform a robot-assisted surgery, during which nurses and technicians will explain their various functions and the steps they take during the operation.
"Then on the second day, on Saturday, we will get into the hands-on, one-on-one education, the real nitty gritty," Parekattil said.
Participants will practice steps such as draping the robotic surgery equipment in plastic, an important and involved step that assures it is properly sterilized. They will also use biosynthetic cadavers to practice positioning patients for the most common robot-assisted procedures, such as kidney and prostate surgeries.
Throughout the weekend, participants will gain familiarity with the nearly 30 instruments that can be attached to the robotic arms.
After their training, participants will complete competency-based assessments to earn the credential.
Up until now, nurses and surgical technicians primarily  learned their functions on the job, a method that is not ideal, said Registered Nurse Lynn Mulder, a member of Parekattil's surgical team.
"This program is going to be a good basis for the participants who can then tailor it to their needs," Mulder said.
Polk State Nursing Director Annette Hutcherson said the College plans three to four sessions of the credential program each year, with the second session planned for Nov. 7-9 to coincide with the Robotic Assisted Microsurgical & Endoscopic Society's (RAMSES) second annual Multispecialty Robotic Microsurgery Symposium, which will take place Nov. 9-11 in Tampa.
"People coming from all over the state, country and world for the RAMSES event will be able to come to Polk State for this training," Hutcherson said.
Each session of Polk State's Robotic Surgery Credential Program will accept 10-12 participants. Nurses who earn the credential will also receive 20 continuing-education credits.
To register for the program, go to roboticnursing.org, or contact Hutcherson at ahutcherson@polk.edu or 863.292.3769.
Polk State Health Sciences includes programs in Cardiovascular Technology, Diagnostic Medical Sonography, Emergency Medical Services, Nursing, Occupational Therapy Assistant, Physical Therapist Assistant, Radiography and Respiratory Care. Polk State's Health Sciences students regularly outperform their peers in the state and nation on required licensing exams.