Polk State's New Head Softball Coach Will Stress Academics, Character Development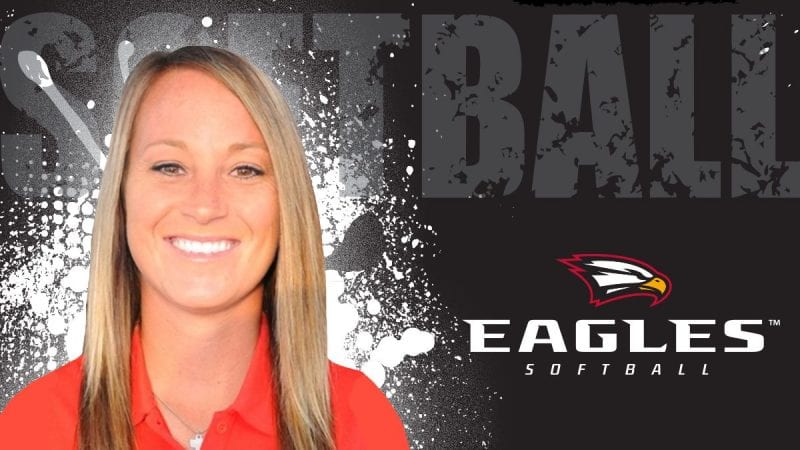 Polk State College has selected Ashley Johnston as its new head softball coach.
She comes to the Eagles from Trinity Valley Community College in Athens, Texas.
Johnston, who oversaw the implementation of the Trinity Valley softball program in 2008, led the Lady Cardinals to 198 wins in eight years.
Johnston says she looks forward to the opportunity to coach at Polk State.
"I love the area, and it's always been a dream of mine to coach in Florida. I love everything about the junior-college level."
In 2013, the Lady Cardinals posted a school record 33 wins and qualified for the national tournament for the first time with a regional runner-up finish. In 2014, the Lady Cardinals posted a 31-win season and came within a single win of returning to the national tournament.
Prior to Trinity Valley, Johnston worked at York College in York, Neb., where she was a head coach for one year. While at York, she led the Lady Panthers to a fourth-place conference standing and a second-place conference tournament finish.
She owns 215 career coaching wins.
Describing her style of play, Johnston says, "I'm a defensive coach in practice and an offensive coach in games. I love the home run, but I don't necessarily recruit power hitters. I like 'slappers' and doubles hitters.
"I'm an aggressive coach. We'll steal bases and try to take the extra base."
Johnston says she stresses team bonding, character development, and academic success.
"Our student-athletes represent Polk State at all times. I want them to always be respectful. I want to see them grow and move on to the next level.  Academics have always been a huge priority for me as a coach," she said.
At Trinity Valley, Johnston's teams earned five straight years of NJCAA All-Academic Team honors.
"My coaching philosophy is to get the players to buy in to what I'm selling," she said. "If that happens, then we'll all be successful."
Johnson starts at Polk State on Sept. 1.
She took her first coaching job in 2005 as an assistant coach at Paris Junior College in Paris, Texas. She helped the Lady Dragons to their first Region XIV tournament appearance, where the team placed third.
After Paris, Johnston became interim head coach at College of the Desert in Palm Springs, Calif. The team placed third in the Foothill Conference that year.
A native of West Monroe, La., she played for the West Monroe High School Rebels. In 1998, Johnston won her first state softball title.
She played in the Region XIV Conference while a student-athlete at Bossier Parrish Community College. She graduated in 2003 with her associate's degree.
After moving on to play for the Lady Techsters at Louisiana Tech, she played for Northwestern Oklahoma State University. She graduated in 2005 with a bachelor's in physical education. She completed her master's degree at Texas A&M University in Commerce, Texas, while coaching at Paris.