Polk State's McLeod Leaves Legacy of Public Art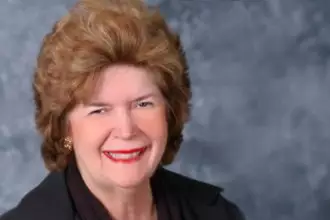 Polk State's Ann McLeod, who even in her final days was planning for the expansion of the College's public-art collection, died in Auburndale on Dec. 25, 2012.
She was 73.
McLeod retired from Polk State College in 2005 after 35 years as a professor of Art History and Psychology on the Lakeland and Winter Haven campuses.
In that time, she built an intangible legacy that certainly lives on in the hearts and minds of her former students and colleagues. However, she may be better remembered for her tangible contributions to the College — the artwork displayed in virtually every corridor and lobby that will long be appreciated by those who never knew her.
"Ann was beyond being an art connoisseur. She was an expert," said Winter Haven Provost Sharon Miller. "She wanted others to engage in the beauty of art as well."
In the past decade, McLeod dedicated herself to her Art in Public Places project at the College, which began as a collection — the Artemis Collection — she assembled to honor her mother.
Seeking to expose students and members of the public to art they may otherwise have never experienced, McLeod personally selected — and many times purchased — the dozens of pieces of art that adorn the halls and gathering places of every Polk State campus and center.
"Ann realized art was a way of improving culture, community and ultimately people's souls," said Polk State Art Professor Gary Baker, who often helped McLeod install artwork on campus.
Through McLeod's work, the College owns what Miller described as the largest single collection of sculptures by Fonchen Lord. Lord's work is also found at Dartmouth College and Harvard University.
Recent additions to the College's art collection include work by glass artist Dale Chihuly and folk artist Ruby Williams; the work of both artists is housed at Polk State Chain of Lakes Collegiate High School.
Miller said before her death McLeod was in the process of selecting artwork for the Polk State College Clear Springs Advanced Technology Center, which is currently under construction in Bartow, and the planned Polk State Center for Public Safety in Winter Haven.
"She left copious notes," Miller said.
The goodwill McLeod fostered with artists often led to donations of artwork to the College, and her death has inspired two such gifts. A Lord sculpture and 10 photographs by artist Kenneth Treister are being donated to the College in her honor; Treister's donated works will be on display at McLeod's upcoming College memorial service.
Baker said he will always think of McLeod when he passes the College's artwork.
"I'm going to miss her. I was hoping she would live forever," he said.
Verajane Hurlbut, a media production specialist at the College, said she'll always remember McLeod's selflessness when it came to the public art project.
"She didn't want any recognition. She would always say that her reward was knowing that everyone else would enjoy the art," said Hurlbut, a longtime friend of McLeod.
"I feel like a little of my heart is missing, but I have to fill it up with the time I spent with her."
McLeod's friends are invited to meet at Ott-Laughlin Funeral Home in Winter Haven at 10 a.m. on Jan. 19. A graveside service will take place at 11 a.m. at Lakeside Cemetery in Winter Haven, followed by a reception and celebration of her life at noon at Polk State College's Winter Haven Fine Arts building.
Read more about McLeod in The Ledger.