Polk State's longest-serving staff member remembered for calm nature, diligent work ethic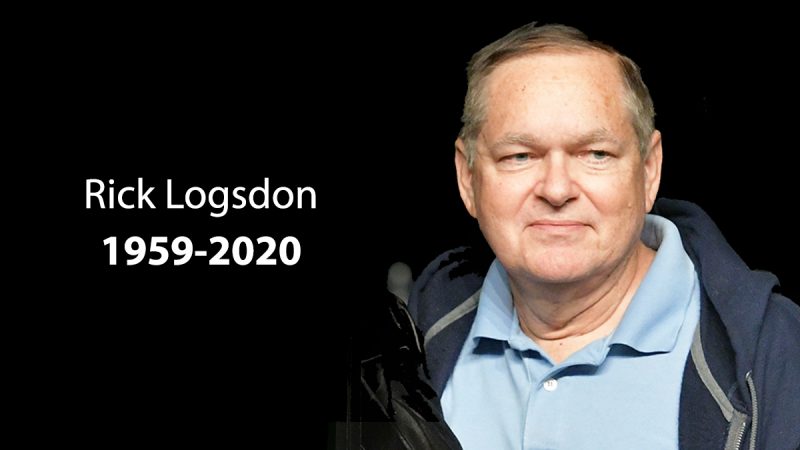 Richard "Rick" Logsdon was a familiar face on campus for nearly four decades before his retirement in December 2018. From serving as a mathematics and computer instructor to working as a systems analyst at Polk State, Logsdon's dedication to the College benefited students, faculty, and staff alike.
Logsdon passed away on April 23, 2020, at 60 years old and his colleagues remember him for his diligent work ethic and calm nature that made him a joy to work with.
"Rick's work ethic was second to none and he worked hard to keep Polk State moving forward," Computer Operations Supervisor Matthew James said. "He saw the College through many system implementations and transitions, and at one point he was the programmer – there were no others and he did the bulk of the heavy lifting."
Logsdon was born on October 2, 1959, in Pittsburgh, Pennsylvania. He achieved his Associate in Arts degree from what was then Polk Community College in 1979 and his Bachelor of Science in Computer Science from the University of Central Florida in 1981.
He joined the College in September 1981 as a systems analyst supporting student records, finance, and payroll systems. Throughout his career, he assisted the College in different leadership positions including Director of Information Systems and Manager of Systems and Programming.
But Logsdon's passion was in the classroom. He served as an adjunct professor teaching programming, systems analysis, and developmental math.
James met Logsdon 20 years ago when he was interviewed by Logsdon for the job.
"My first impression was that he was quiet and reserved, but what I remember him by the most is that when he wanted to learn something – whether it was a program, a hobby, or a part of the world – he would immerse himself in it," he said.
Logsdon collected coins and stamps, played golf, and enjoyed math over any other subject.
"From listening to his brother speak at his memorial, it was clear that he really loved math," James shared. "He struggled in a particular math class and went into programming rather than going on to pursue his degree in math, but he still loved it."
Logsdon put his all into programming.
His work helped to build the College's network of computers, servers, storage, and technological infrastructure. He led the College through a Y2K conversion project and supported the development of the SharePoint intranet system the College uses today.
"He was a very intelligent man who never did anything halfway," James explained. "When he wanted to learn something, he would dive into it and learn it completely."
Logsdon passed the desire to learn on to his students.
Brenda Bracewell, Project Support Specialist for Polk State Kids at College, was one of Logsdon's students 30 years ago. Most recently, she worked in close quarters with Logsdon in the Winter Haven Campus WMS building.
"He had a sharp memory because he had so many students and when I began working at the College, he recognized who I was," Bracewell said.
For Bracewell, what stuck out the most about Logsdon was his love for his family.
"One of his grandsons attended Kids at College and when you would mention his family, it made him smile," she said. "There was always a glimmer in his eye when talking about his family and that was special because when you work with people, you don't always see their home life, but Rick's love for his family was clear."
Logsdon is survived by his wife, Paulette Logsdon; daughters, Sharyl Coley, Kyla Coley, Shakita Hollis, and Claudia Johnson; sons-in-law, Derek Willis and David Johnson; grandchildren, Ezekiel Coley, Isaiah Mayo, Jackie Coley, Madysn Coley, Amani Johnson, Khadijah Johnson, Dominique Johnson, Tyrese Burnam, and Malcolm Burnam.