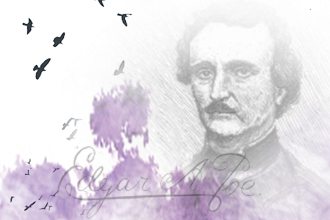 The debut season of Polk State's Lakeland Cabaret continues later this month with "The Poe Project: A Midnight Dreary," dramatic readings of the works of Edgar Allan Poe.
"It's going to be a night of creepy fun, all celebrating Edgar Allan Poe — and who doesn't like Edgar Allan Poe?" said Adjunct Professor Ilene Fins.
Students who perform in the Lakeland Cabaret are enrolled in Theatrical Production, a new offering Fins is teaching on the Lakeland campus. The seven-week class is dedicated solely to planning, rehearsing and performing a show.
The Lakeland Cabaret staged its first performance in October, titled "Polk State…See? You and Me, Diversity Speakeasy."
To create "The Poe Project," Fins has blended three of the author's most well known works:  "Annabel Lee," "The Bells," and "The Black Cat" to create a dramatic narrative for five performers.
Audience members will be seated in the center of the room and the performers will speak their lines from music stands placed around the periphery of the room, Fins said.
"The voices are going to carry over the audience in the space, so it's going to be a more environmental performance," she said.
Attendance to the show is free, and there will also be free food and drink. According to Fins the refreshments as well as the décor will reinforce the evening's theme.
"The Poe Project" will be performed on Nov. 29 at 6 p.m. in room LAC 1133 on the Lakeland campus, 3425 Winter Lake Road.