Polk State's Free Back on Campus Lecture Series Takes Place March 4, 11, 18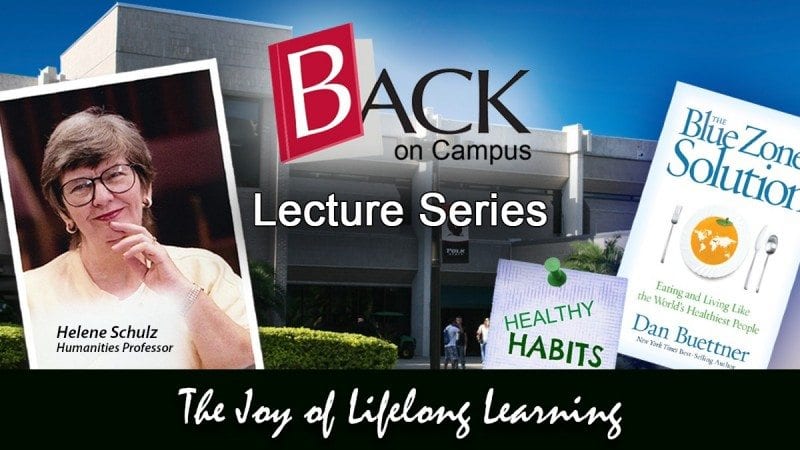 Polk State College will again welcome members of the community for its annual Back on Campus Lecture Series.
For more than a decade, the College has hosted Back on Campus, a free event that is open to the public. During Back on Campus, members of Polk State's faculty and staff, as well as guest lecturers from the community, share insight into their areas of expertise and interest.
Admission to Back on Campus is free thanks to a former Humanities Professor Helene Schulz's donation to the Polk State College Foundation, Inc. Registration is required to attend. Register at polk.edu/lifelonglearning, or email Lucille Hadley at lhadley@polk.edu or call 863.297.1050.
All sessions will take place at Polk State Winter Haven, 999 Ave. H N.E., in room WST 126. This year's Back on Campus schedule includes:
Friday, March 4
12:35 p.m. — Welcome, Polk State Winter Haven Provost Martha Santiago
Musical entertainment featuring Sorority of Sound under the direction of Polk State Music Professor Michelle Manzi
1-2 p.m. — "Arts in Our Community," Cultural Arts Advisory Committee of Winter Haven, with Winter Haven Mayor Brad Dantzler and Assistant Winter Haven City Manager T. Michael Stavres
Sidestreet Studio community outreach, with artist Tinia Clark and author Donna Kelly
2:15-2:35 p.m. — "Lilia!" presented by actress, writer and producer Libby Skala
3:30- 4:30 p.m. — "Nat West: Lessons of the Blue Zones," a book review of the "Blue Zones Solution," by Dan Buettner
Friday, March 11
12:35 p.m. — Welcome, Polk State College Foundation Director of Financial Affairs Lynn Wilson
Musical entertainment featuring Polk State Professor of Music John Anderson
1-2 p.m. — "Ridge Arts Association," with Executive Director Christy Hemenway, Theatre Winter Haven Producing Director Dan Chesnicka; "Gram Parson's Derry Down Project," with Main Street Winter Haven Inc. Executive Director Anita Strang
2:15-3:15 p.m. — "Cuba Today," with Polk State Professor of Spanish and Humanities Ana Myers
3:30-4:30 p.m. — "Your Doctor Knows What Is Best for Optimal Health," Cathy Thornhill with members of Chat and Chew for Optimal Health
Friday, March 18
12:35 p.m. — Polk State Winter Haven Dean of Academic Affiars April Robinson
Musical entertainment featuring Sorority of Sound under the direction of Polk State Music Professor Michelle Manzi
1-2 p.m. — "The Outer Space Gallery and Studio," in partnership with the Polk Museum of Art, Polk State College Art Department, and the Arts Ensemble Education Foundation, with Arts Ensemble Education Foundation Executive Director Jane Waters Thomas
2:15-3:15 p.m. — "Writing Your Life: Tips and Techniques for Productive Memoir Writing," Polk State Interim Associate Dean and English Professor CR Junkins
3:30-4:30 p.m. — "Why Is It So Difficult to Change Our Diet?" with Mark Gai