Polk State's Eric Roe to Participate in Clinton Global Initiative America Meeting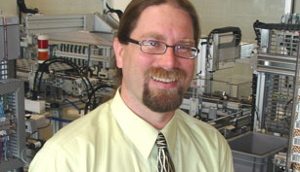 Polk State College's Eric Roe will attend the second Clinton Global Initiative America meeting, where nearly 1,000 leaders from the business, government and nonprofit sectors will strategize solutions for the nation's economic growth.
Roe is director of Applied Technology and the Banner Center for Advanced Manufacturing at Polk State College.
"It was quite an honor to be invited to participate on the Advanced Manufacturing Working Team at CGI America. It validates all the hard work we have done in Florida with the Banner Center for Advanced Manufacturing at Polk State College to develop an industry-defined, competency-based, workforce for modern manufacturing," Roe said.
The two-day Clinton Global Initiative America Meeting will take place in Chicago on June 7 and 8.
Established by President Bill Clinton in 2005, the Clinton Global Initiative convenes global leaders to solve pressing challenges around the world. The Clinton Global Initiative America meeting first took place in 2011 to address economic recovery in the United States.
At the event, attendees share knowledge and best practices, form partnerships and develop "Commitments to Action," which the Clinton Global Initiative describes as new, specific and measurable plans to address a challenge facing the U.S.
Featured participants at this year's Clinton Global Initiative America meeting include Chelsea Clinton; Chicago Mayor Rahm Emanuel; Tennessee Gov. Bill Haslam; San Diego Mayor Jerry Sanders, as well as leaders from businesses and nonprofit organizations.
Participants in the event will be broken into 12 topic-specific groups; Roe will participate in the Advanced Manufacturing group.
The Advanced Manufacturing group will address topics including Product and Process Innovation, Financial Capital, Skilled Workforce, Supply Base and Market Access, all with the ultimate goal of developing collaborative strategies that will attract and grow manufacturing companies in the U.S.
Roe said the event is an opportunity for Polk State and the Banner Center for Advanced Manufacturing to share their success in training students and equipping them with the skills that today's manufacturers demand.
"Statewide, we have built the toolkit for local deployment that links high school career academies, technical center programs, community and state college certificate and degree programs, workforce training for both dislocated and incumbent workers, national industry certifications, and pathways for articulated college credit," Roe said.
"That is best exemplified at Polk State by the strong alignment of the Corporate College training programs offered by the Advanced Manufacturing Institute, the Engineering Technology Associate in Science degree, and the registered apprenticeship programs administered in collaboration with The Mosaic Company."
The need for skilled workers is the most pressing issue American manufacturers face, Roe said.
"The increasing levels of automation and precision in the modern manufacturing environment are driving significant gains in productivity while requiring a workforce that has skills and knowledge far beyond that of even 10 years ago. Both locally and statewide, I have directly heard from manufacturers that expect that 50 percent to 60 percent of their skilled workforce will retire in the next five years. That pending retirement boom, coupled with the ever-changing technology gains in modern manufacturing, is leading to a situation where American manufacturers will face a serious skilled-workforce challenge very soon," he said.
According to Clinton Global Initiative, participants in the 2011 America meeting made more than 100 Commitments to Action that are valued at $11.8 billion. When fully funded and implemented, those commitments will improve the lives of more than 3 million people, create or fill more than 150,000 jobs, and invest and loan $354 million to small and medium enterprises in the U.S.
The Banner Center for Advanced Manufacturing is funded by Workforce Florida Inc. and provides curriculum, training, education and certification resources, and support for the continuation and expansion of Florida's Advanced Manufacturing industries.