Polk State's Coffey Covers State Baseball Tournament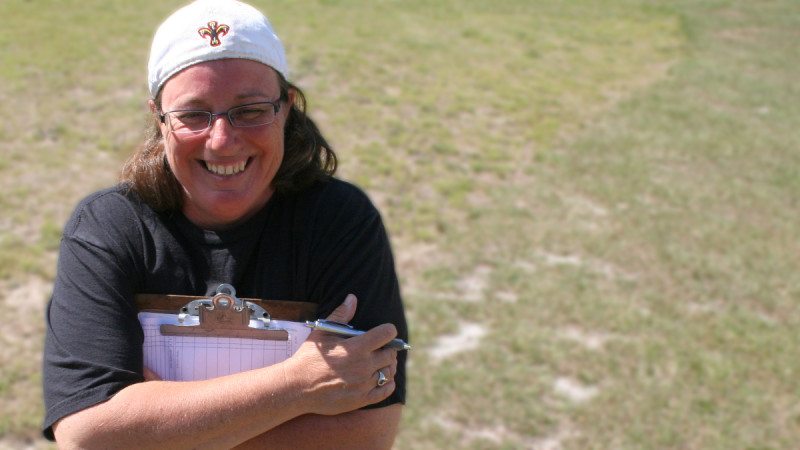 Polk State Sports Information Coordinator Lisa Coffey, a seasoned sports reporter with more than 20 years experience, recently lent her talents to the Florida College System Activities Association, covering the state's junior-college baseball tournament.
Coffey joined Polk State's Office of Communications and Public Affairs in late 2012, having spent the previous two decades covering college and high-school sports for the Ledger Media Group.
Since joining the Polk staff, her reporting for polkeagles.com and her work in coordinating coverage with area media outlets have raised the profile — and built the fan base — of Polk State's athletics program.
Earlier this month, she volunteered to cover the 2013 NJCAA/FCSAA Baseball Tournament for the FCSAA.
"I love baseball, and even though my Eagles weren't playing in the tournament, I looked at it as an opportunity to have fun, learn, and help the state by giving all baseball fans timely coverage," Coffey said.
The tournament began Friday and just wrapped up Tuesday, with Palm Beach State College winning a berth to the NJCAA JUCO World Series in Grand Junction, Colo.
Coffey's game recaps, which highlighted not only inning-by-inning action but also human-interest angles, appear at thefcsaa.com, under the "Polk State College News Service" byline.
"It was vital that the tournament was covered and that every game was posted online," said Polk State Athletic Director Bing Tyus.
"It was huge for the College that we were able to provide that service. Everyone in the press room marveled at the fact that we had someone who could do it — and do it well."