Polk State's Clean Team shines, keeping College sanitized and safe through COVID-19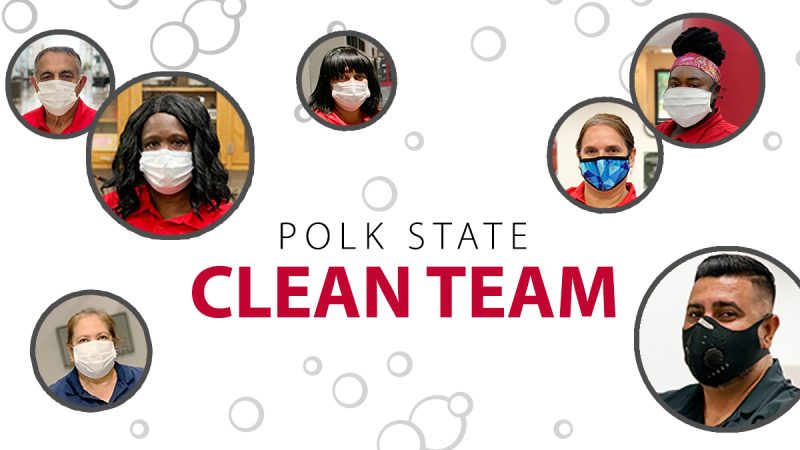 JULY 14, 2020 UPDATE: Polk State College has delayed Phase II of its Return to Campus Plan from July 20 to August 3, 2020. Please visit the College's COVID-19 page for more information and future updates.
While Polk State, and most of the world, shut down at the onset of the COVID-19 public health emergency, members of the College's Clean Team never stopped showing up for work and they continue to shine as they ensure campuses remain sanitized for essential personnel and functions.
Be the Solution: Polk State College's Return to Campus Plan was recently announced and outlines three phases for students, faculty, and staff to return slowly and safely to the College's campuses. The WFF Facility Services employees, proudly named the Polk State Clean Team, want members of the Polk State community to know that they can come back to the College's campuses confident that the Centers for Disease Control and Prevention guidelines are being followed closely and constant cleaning is taking place to ensure everyone's health and safety. WFF Facility Services has equipped its team with best practices, expert processes, and top technology to mitigate the spread of COVID-19.
"We take pride in our work, we treat the College like it's our home, and we are committed to taking care of our Polk State family," Director of Custodial Services JC Caicedo said. "We have stepped it up with disinfecting with hospital-grade disinfectant, cleaning frequently touched surfaces continuously throughout the day, and partnering with security to keep track of who is coming in and out of classrooms and offices to clean between uses."
Flora Havet, Regional Operations Manager for WFF Facility Services who oversees custodial services at institutions across the state, shared that the team at Polk State has been successful in its response to the COVID-19 public health emergency.
"We are using CDC-approved products only and I am happy to share that we were already using them so it was not difficult for us to continue the normal flow and accommodate new requirements," Havet explained. "Our staff has been trained over and over again on proper personal protective equipment usage as well as utilizing our products efficiently. Our whole team at Polk State has been wonderful and JC, our director, has been a key element."
Members of the 34-person Clean Team echoed the same pride and commitment to their work, as well as encouragement for all members of the Polk State community to do their part in keeping campuses safe from COVID-19. This includes following CDC guidelines: washing hands often, avoiding close contact with others, covering the mouth and nose with a cloth face covering when around others, covering coughs and sneezes, and cleaning and disinfecting areas.
"As long as everyone continues to follow CDC guidelines and continues to practice social distancing, we will get through this together," said April Espina who serves the Winter Haven Campus. "It takes teamwork. We all need to be washing our hands, sanitizing our areas, and taking all the precautions."
Lucy Almanzar, who has served the College as a member of the cleaning staff for nearly seven years, works at the Polk State Center for Public Safety where specific workforce training programs are taking place. She is counted on to disinfect between classes.
"Every time a class gets out for a break, I attack the room," she said. "I disinfect all the surfaces, replace the plastic on the keyboards and chairs, and pay close attention to every detail."
She calls her custodial cart her "limousine" and loves her job so much she, she never takes a day off out. But she misses the people and can't wait for more students and employees to return to campus, even if that means more cleaning.
"They should know that the school is 100 percent clean and sanitized," Almanzar said. "We're not skipping any steps."
Shanese Pace misses students too at Polk State Airside Center East. She has served the College for five years. Like her colleague Almanzar, Pace is stationed at a facility where some workforce training programs are taking place and is responsible for "attacking" rooms between classes.
A student leaving class says goodbye to Pace from a socially acceptable distance, addressing her by her name and illustrating the rapport Pace has with students, faculty, and staff at the center.
"It's been quiet though," Pace said. "It's different than the normal day. I'm missing the people and the students. My favorite part of the job is the people. I enjoy seeing the students and meeting so many different people. We have all gotten to know each other here. We're like a family."
She wants her Polk State family to know that when it is time for them to return, "it's safe."
"When one person comes in and out, we're there working hard to keep things clean," she said. "We take our job very seriously."
Joe Mercado illustrated just how seriously the Clean Team takes its job. When the College announced it would close on March 16 due to the public health emergency, Mercardo took advantage of the empty campus to start on a list of strenuous assignments, rather than taking a break.
Mercado and his team stripped all the old wax off the floors and refinished them in the Lakeland Technology Building, Lakeland Academic Center, and Student Center. They also washed the carpet in every classroom, office, and auditorium.
"There's something to do every single day. Even though we're closed, we don't stop," said Mercado, a U.S. Army veteran who has worked at the College for 15 years. "It's been lonely, but the positive is that we are able to get all this work done."
His favorite thing about the job: the responsibility, he said.
"I enjoy making sure that I do the best job," he added. "People should know that they are coming back to a clean atmosphere where they can feel comfortable and safe."
Petra Frias echoed a similar sentiment on the Lakeland Campus.
Working for the College for nearly nine years, Frias said she is grateful to have a job during the COVID-19 public health emergency and enjoys that it keeps her busy during this unprecedented time.
"People have fear, but they should know that when they return to our campus, it is clean," Frias said. "They should wear their masks and social distance, and we will make sure that everything is sanitized."
As Espina on the Winter Haven Campus put it, "help us help you," she said.
Espina and Anne Allen have worked diligently to keep the Winter Haven Campus clean, but they admitted that they shared the anxieties that many people have experienced through the COVID-19 public health emergency.
"In the beginning, we were scared," Espina said.
"There was very little information at the time," added Allen, a grandmother of four who has worked on the campus for nine years. "It was hard coming in to work and worrying about the possibility of bringing something back to our families at home."
The College quickly implemented CDC guidelines and worked closely with local and state officials to respond to the public health emergency. This included supplying hospital- and high-grade disinfecting cleaners as well as alcohol-based hand sanitizing stations throughout the College's sites.
"We also had good communication from our supervisors and we have been supplied with masks and gloves," Espina said. "It's better. It's safe here."
They added that it has been a bonding experience among the cleaning staff as well as with campus security.
While campuses remain closed to students and visitors with classes and services functioning remotely, faculty and staff are able to visit campus with approval from their supervisors and by contacting security when they come and go. Security supplies the cleaning staff with a list of classrooms and offices that need cleaning after they have been utilized.
"The atmosphere here is very family-like," Espina said.Like the rest of their colleagues, they are excited for students, faculty, and staff to come back to the College as Polk State implements its Be the Solution: Polk State College's Return to Campus Plan.
"We love the students and we get to know so many different people working here," Allen said. "It will be good to have everyone back."