Polk State's 107th Commencement Ceremony is Dec. 13; Gregory Littleton to Be Honored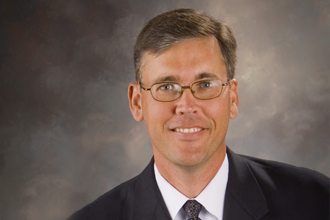 Polk State College's 107th Commencement will be Dec. 13 at 4 p.m. at the Health Center, on the campus of Polk State Winter Haven, 999 Ave. H N.E.
Approximately 1,063 students qualify to march during the ceremony. Nearly two-thirds of graduates will receive Associate in Arts degrees. The College will also bestow approximately 205 Associate in Science degrees; 50 Associate in Applied Science degrees; 65 Bachelor of Applied Science degree.
Nine students will graduate with their Bachelor of Science in Nursing degrees, the first students to complete the program since it launched in 2011.
The remaining students will receive various certificates that lead directly to employment opportunities.
Also among the graduates are 18 who completed the College's Honors Program.
During the ceremony, the College will present its Distinguished Alumnus Award to Gregory Littleton, who graduated in 1987 and is now president and CEO of Citizens Bank & Trust.
After earning his Associate of Arts degree from Polk State, Littleton earned degrees from Freed-Hardeman University and the Banking School at Louisiana State University.
Littleton was hired by Citizens Bank in 1997 to open a new branch in Lake Wales. Two years later he was named executive vice president, and in 2001, at age 34, he became its president. Under his leadership, Citizens Bank acquired American Bank & Trust in 2004 and has grown to encompass $450 million in assets.
Littleton is a member of Polk State's District Board of Trustees. He is also chairman of the Central Florida Development Council, a board member of the United Way of Central Florida, treasurer of the Greater Winter Haven Chamber of Commerce Board of Directors, and treasurer of the Polk Museum of Art Board. He is immediate past chair of Polk Vision, a past chair of the Lake Wales Chamber of Commerce and EPC 100, and a past board member of the Lake Wales Arts Council. He also recently concluded his term on the Florida Bankers Association Board.
Polk State College has awarded more than 35,000 degrees since it was founded in 1964. Here is a more detailed look at this semester's graduating class:
Approximately 375 students plan to march in the ceremony.
109 students have earned the academic distinction of Cum Laude with a grade-point average of 3.4 to 3.74; 64 students earned Magna Cum Laude with a GPA of 3.65 to 3.9; and 28 students have earned Summa Cum Laude with a GPA of 3.9 or higher. Thirteen graduates have a 4.0 GPA.
The age range of graduates is 16 to 65.
In addition to Florida, graduates represent California, Colorado, Georgia, Indiana, Maryland, New York, Oregon, South Carolina, Texas, Utah and Virginia.