Polk State Winter Haven Pauses to Honor Veterans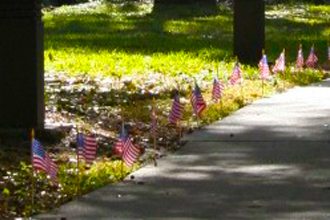 Polk State Winter Haven paused Monday to honor the nation's veterans, with 1,000 small flags decorating the campus and a stirring bagpipe performance.
As it has for three of the last four years, Polk State Winter Haven SALO (Student Activities and Leadership Office) organized the Veteran's Day remembrance.
Preparations began Sunday afternoon, with Winter Haven SALO Director Carlos Parra and student volunteers spending nearly two hours placing American flags in the ground along campus walkways. This year, the wooden staffs of the flags were specially printed with "Polk State SALO."
The flags set the perfect stage for the morning's performance by bagpiper Mark Jafrate, who slowly strolled amid the Fine Arts, Administration, Learning Resources, and Student Center buildings, sending the haunting strains of his instrument echoing through the campus.
Parra said the Veteran's Day remembrance is one of the most meaningful activities SALO organizes.
"This is not a mandate from the College. We do this because there are so many students, faculty and staff who have served. This is our way of telling them 'thank you.' It never fails that we see people crying and have people thank us for doing this," he said.
Jafrate's performance was planned to last four hours, but only minutes into it, he already had students stopping in their tracks to reflect on veterans' sacrifices.
"Most people don't really think about all that our veterans have done. This is really eye-opening," said Shane Littrell, a student who lives in Winter Haven.
Faith Wagner, a student from Winter Haven attending Polk State Chain of Lakes Collegiate, said she made a personal connection to the morning's display.
"My grandfather is a veteran of the Vietnam War. I think it's really cool that the College does this to honor him and others who have served," she said.