Polk State, WHEDC Agree to Partner on Internships, Events, Other Opportunities for Students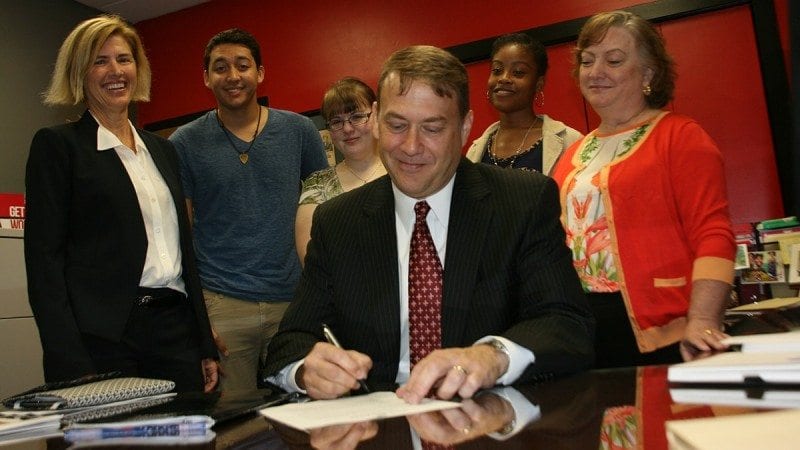 Polk State College and the Winter Haven Economic Development Council have inked an agreement that will help students make stronger real-life connections to area businesses.
Polk State President Eileen Holden signed the Memorandum of Understanding last week. On Monday, WHEDC Executive Director Bruce Lyon visited the Winter Haven campus to add his signature.
Polk State Winter Haven Dean of Academic Affairs Martha Santiago, Bachelor of Applied Science Program Director Maria Lehoczky, as well as several Polk State Winter Haven students, also attended the morning signing.
"This is going help students make tangible relationships with the local business community," Lyon said.
"They'll have the chance to learn about the different varieties of businesses we have right here in Winter Haven. Through internships, mentorships and guest speaker programs, they will gain skill-building opportunities.
"Businesses may find their next new employee or intern through this agreement, or they may find a new way to give back to the community by connecting with Polk State students."
Under the Memorandum of Understanding signed by Lyon and Holden, the College and WHEDC agree to collaborate on a host of initiatives, including guest speaker programs, internships, tours of local businesses, events and venues to showcase student art.
Santiago emphasized that the agreement will open the door for more real-life learning among Polk's student body.
"They get the theory behind business in class," she said. "This is going to let them see how what they learn in the classroom plays out in their community."
In addition to the WHEDC, Polk State maintains strong relationships with all of Polk County's economic development organizations, chambers of commerce, and industries.
"This new agreement with the WHEDC is another example of Polk State's deep, inextricable ties to the local business community," Holden said. "We have to ensure that we're giving students the knowledge and skills their future employers need, and we do that best by being an active, engaged partner with organizations like the WHEDC. I look forward to seeing where this agreement takes us."