Polk State VP of Institutional Effectiveness, Accreditation & Research has a heart for community, state colleges because they allow students to get education on own terms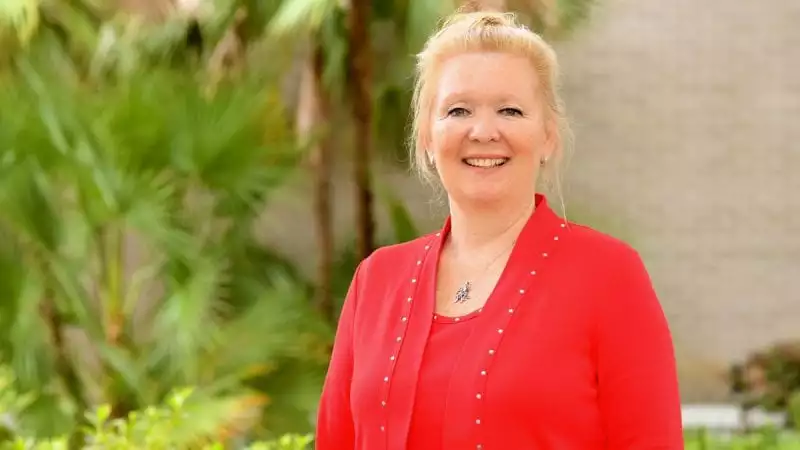 Mary Clark has a heart for community and state colleges because they allow students to get their education on their own terms like she did.
Clark, who joined Polk State College in March as its Vice President of Institutional Effectiveness, Accreditation, and Research, has spent significant time in college accruing degrees, and the long stretches in between didn't deter her from accomplishing her goals.
She went to college out of high school but quit two years in to marry and have three children. She didn't return for nine years when she decided she wanted to set the best example for her family.
"On my wedding day, my father made me promise that I would finish my bachelor's degree, offering to buy me a car when I did," said Clark, who is the second of three generations of educators.
She was pregnant with her third son when the bank she was working for closed. Luckily, she could transfer credits from her earlier stint in school to Rosemont College, where there was a daycare for her children.
"It took me having my own children to really understand why it was so important to my parents that I finish my degree," she said.
In 1993, she received a bachelor's degree in biology and started her 15-year career as a teacher at her New Jersey high school.
Her dad gifted her with a toy Porsche for achieving her degree as promised.
"He never specified what type of car I would get," Clark laughed.
She already had her eyes set on furthering her education and earned her master's degree in supervision and curriculum development 11 years later. It would take another 13 years for her to receive her doctorate in educational leadership and higher education, but she spent that time gaining work experience in higher education institutions.
She served as coordinator of professional development training at Coastal Carolina Community College in North Carolina. She also worked part-time as a basic skills instructor and an enrollment specialist at Craven Community College before becoming the Interim Dean of Institutional Effectiveness and Learning Support.
"I had an interesting segue into institutional effectiveness," Clark said. "My predecessor at Craven Community College resigned and recommended me to see the College through its fifth-year report. I had nine weeks to do a job that typically takes more than a year to complete."
Her "saving grace?"
"The relationships I was able to build across campus," she explained. "I was able to gather information, experiences, and expertise from others to complete the report successfully, and that's what I plan to do here at Polk State as the College nears its reaffirmation of reaccreditation. Everyone's input is critical and working together is vital to our success."
Clark may have more time than she's used to with Polk State's reaffirmation of reaccreditation by the Southern Association of Colleges and Schools Commission on Colleges (SACSCOC) scheduled for 2021, but she hasn't wasted any of it – jumping right into becoming familiar with the College culture.
She has even adopted an unofficial mascot for the Office of Institutional Effectiveness, Accreditation, and Research – the octopus.
"Its tentacles represent all the moving pieces and parts of institutional effectiveness found in all areas of the College," Clark explained. "We look at the institution with a 360-degree perspective and critically evaluate our successes so that our institution can continue to enhance services and provide the most optimal experience for students."
Her first goals include meeting as many students, faculty, and staff members as possible to build relationships, learn about their goals for the institution, and how they are using data in their areas of the College.
And coming from North Carolina, where she most recently served as executive director of research and institutional effectiveness at Carteret Community College, Clark is focused on getting up to speed on Florida's education policies.
Her Microsoft Office Outlook calendar is filled with blue appointments, signaling that she is already very busy meeting with individuals from all areas of the College. She is happy to report that they share her goal of student success.
"I applied to Polk State because we share the same vision and values," she said. "We want to provide education for everyone, and that community piece is very important to me. It's also important that we allow students to pursue their education on their own time, offering degrees and courses that fit into their schedules."
Clark called herself a lifelong learner who would probably continue going to school if it wasn't for landing her "dream job" and becoming the "destination" for her grandchildren now that she lives near LEGOLAND Florida Resort.
"But I will forever be pushing myself to grow and learn," she said, "and in this position, I will continue to give back to education because it has given so much to me. I look forward to serving Polk State College."