Polk State Visual Arts Students Make Statement With Latest Mural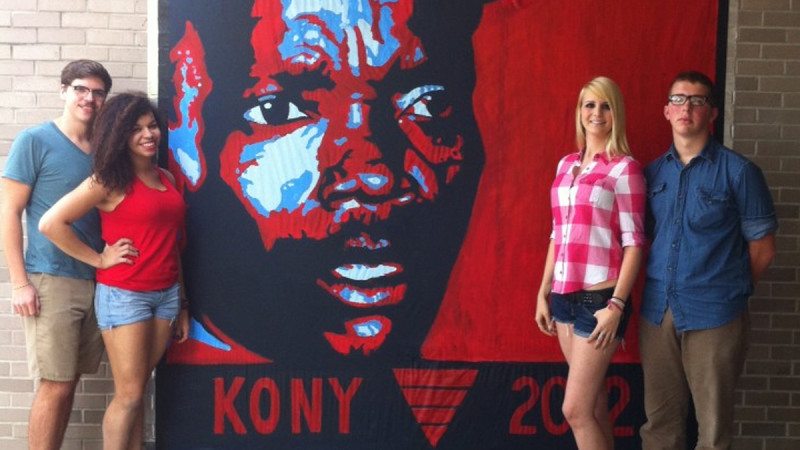 With paint, paper, and passion in their hearts, members of the Polk State Visual Arts Society began their latest mural.
They labored over the contours of their subject's face, delicately highlighting his features. They carefully lettered a message that would resonate with some, confound others. When it dried, like they have so many times before, they hung it outside the Fine Arts Building, under an overhang in a spot nicknamed the "PSCVAS Grotto." Then they waited for the questions — Who is he? Why paint him?
Those questions and others were exactly what the students had hoped to spark.
The subject of this latest mural is Joseph Kony, a Ugandan war criminal known for his use of child soldiers.  Unlike the subjects depicted in previous PSCVAS murals — Elvis Presley, Hillary Clinton, Martin Luther King Jr., as examples —Kony represents a commentary on current events and an attempt by the art students to educate their peers.
Student Alexandria Trsek pitched the idea of painting Kony to other members of the club after watching an online film, "Kony 2012"; the film is part of a campaign by the group Invisible Children to have Kony arrested.
"The film is so powerful. I knew we had to do something," said Trsek, vice president of the PSCVAS. "If we're going to put all this effort into something, it shouldn't be just some random person. Kony is someone that a lot of people don't know, but they should."
Trsek's fellow members agreed, as did their adviser, Art Professor Vilas Tonape.
Five students, including Trsek, created the mural in several hours, taking breaks to watch "Kony 2012" during the process.
"I think it's important to use our art for social change," said Brayden Hooper, the club's president. "This is really a grassroots effort to create an across-the-board awareness."
The students who worked on the Kony mural — which in addition to Trsek and Hooper include Gaby Conliffe, Amanda Finch and Jordan Neumann — said it was a unique experience to feel so passionately about a project and have that passion expressed on paper.
"We're all so excited about it. It was such a great experience," said Conliffe, secretary of the club.
Club members say they plan to create handout versions of their mural to distribute as part of Invisible Children's April 20 "Cover the Night" event to raise awareness of Kony.
The PSCVAS started four years ago with students offering face painting and caricatures at the College's annual Fall Fest event. The students still lend their talents to Fall Fest, but with the Kony mural, it's clear the club has grown and matured, Tonape said.
"Now they're using their murals to make evocative statements about the world," he said.