Polk State Visual Arts Student Featured in Dolls Magazine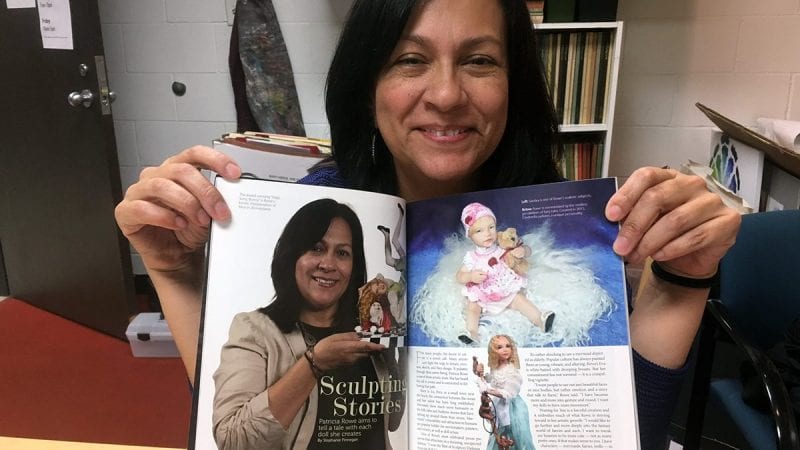 A student who credits Polk State with helping her develop as an artist is featured in the October 2016 edition of Dolls magazine.
"My dolls now have more expression and action. This is because of Professor Scoggins and Professor Coombs. They keep helping me to get better," said Patty Rowe, a resident of Lakeland, referring to Visual Arts faculty members Holly Scoggins and Andrew Coombs.
Rowe, a native of Ica, Peru, grew up wanting to be an artist, but her father, a doctor, urged her to study in a field that offered more security, so she earned a bachelor's degree in communications. Even as she got married, moved to America and became a mother, however, her passion for art never waned.
"I felt so bad about not following my dreams," said Rowe, 51. "I was not doing what I wanted with my life. I felt incomplete."
Several years ago, inspired to recreate a doll named Titi that her father had given her but that she lost as a young girl, Rowe began creating dolls using polymer clay. Her creations, she soon realized, were pretty, but they lacked personality.
"I wanted to perfect the dolls," said Rowe, explaining why she decided to sign up for classes at Polk State.
Rowe has since taken classes in design, drawing and composition, and ceramics, and with each course, she and her dolls have improved.
"The proportions have changed a lot. There is more movement," she said. "I want to keep getting better."
Rowe has won awards from Dolls magazine and the Professional Doll Makers Art Guild for her work, as well as Best in Sculpture and a Purchase Award in sculpture at Polk State's student art exhibition. Perhaps just as exciting as the tangible accolades for her progress as an artist, however, is the confidence she has gained while studying at Polk State.
"My professors encourage me and they make me want to keep getting better," she said.
In addition to Visual Arts, Polk State's arts programs include Music and Theatre, all of which enjoy outstanding statewide reputations.